Liqua Pop (iPhone, iPod Touch)
Drag and pop to take Toadie to the top!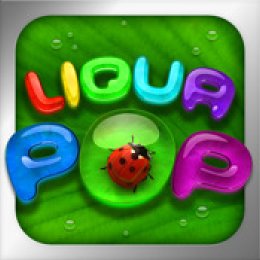 Certificate / Rating: Retail Price:
£1.19
Release Date:
10/3/2011
Genre: Puzzle
Perspective: 2D
Resolution:

Related Websites:
http://www.ea.com/games/liqua-pop-iphone

Platforms:
iPhone
iPod Touch

Publishers:
EA Games

Studios:
EA Mobile
iChromo

Description:
Toadie the Frog really wants to get to the top of the leaf so he can move on to new and exciting levels - and you're the only one who can help! Pop matching color droplets by dragging them together and clear his way with this innovative match-3 puzzler from iChromo.

The intuitive liquid display works with a touch of your finger. Drag your droplets anywhere on the screen and similar colors will accumulate until they burst. Let the droplets grow for higher scores. Or if the screen gets too crowded, shake your device to pop them immediately. Work quickly to clear the screen before time runs out or else everything will overflow!

Look out for droplets containing bugs. Set the bugs free, and they can help you get Toadie to the next level. Careful, though! Release the wrong bug and they will leave obstacles behind. Play through a variety of stunning natural environments with authentic ambient sounds. The high-end graphics of the Retina Display will make you feel at one with nature!