The Sims: Medieval
Get medieval with The Sims!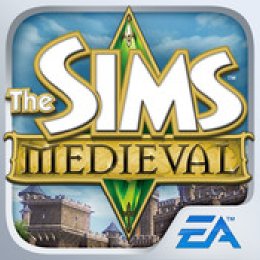 Certificate / Rating:
12
Retail Price:
£2.99
Release Date:
22/09/2011
Genre: Simulation
Perspective: 3D
Resolution: Retina

Related Websites:
http://itunes.apple.com/gb/app/the-sims-medieval/id464440043?mt=8
http://www.ea.com/sims-medieval-ios

Platforms:
iPhone, iPod touch and iPad
iOS 3.0

Publishers:
EA Games

Studios:
Electronic Arts Nederland B.V

Description:
GET MEDIEVAL WITH THE SIMS™! Your favorite lighthearted Sims universe is going old-school - back to the times of castles, kings, jesters and knights!

DELVE INTO A MAGIC STORY-DRIVEN WORLD
Create your hero and determine your Sim's destiny in this new fantasy. From serf and squire to Lady and Lord, role-play even as a Vampire! Immerse yourself in a dramatic adventure where the possibilities are endless.

QUEST YOUR WAY TO DESTINY
Complete quests to propel your Sims onward. Master skills and make wizardly potions like a death potion - or a love potion. Join parties across a richly detailed medieval realm, or test your skills with features like combat and fishing.

LONG LIVE THE SIMS MEDIEVAL™ ON iPHONE & iPOD TOUCH
View all the feuding, feasting and frivolity with the visual glory of the Retina Display.