Max and the Magic Marker (iPhone, iPad, iTouch)
Let the Drawing Fun Begin!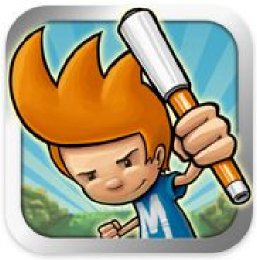 Certificate / Rating:
9+
Retail Price:
£1.19
Release Date:
17/03/2011
Genre: Puzzle
Perspective: 2D
Resolution:

Related Websites:
http://www.ea.com/games/max-and-the-magic-marker-iphone-ipad

Platforms:
iPhone
iPad
iPod Touch

Publishers:
EA Games

Studios:
Press Play

Description:
** Winner of the Independent Games Festival 2010 (IGF) D2D Vision Award! **

FUN FOR ALL AGES! One day Max gets a mysterious marker in the mail. The first thing he draws is a monster. As soon as the pen leaves the paper, the monster comes to life and jumps into another drawing. Oh no, it must be stopped! Max draws himself onto the page and the chase begins. Welcome to Max & the Magic Marker, an award-winning physics-based puzzle platformer that plays like a classic - but with a twist!

LET THE DRAWING BEGIN!
You have a magic marker that enables you to draw freehand in the game - everything you draw becomes a real, interactive object within the game world. Master Max's extraordinary talent and help him overcome enemies, obstacles and puzzles!

FROM SWEET HOME TO A ROBOT FACTORY
This innovative game features 58 awesome levels in 3 unique worlds, rendered in stunning HD-quality graphics. Match wits with oodles of puzzles, each offering multiple solutions. Solve them all and earn loads of achievements!

DON'T RUN OUT OF INK!
Collect ink and numerous golden spheres, and if you're feeling keen, find each elusive black sphere. Overcome the obstacles as quick as you can, and find a way to the evil monster who wants to damage Max's drawings.