rDock-uni by Arcam - Lightning Dock for iPad/Phone/Pod
Amidst all the noise about wireless connectivity the simplest and best solutions can often be ignored. The rDock-uni is an audiophile docking station for iPhone/Pad/Pod, that allows a the easiest fixed connection to any form of Hi-Fi, Home Cinema or Audio system. Featuring the new Lightning connector for all current iDevices and USB for older ones, the user just has to Dock & Play!
rDock-uni - Digital Lightning Dock for iPad/Phone/Pod - £200 inc VAT
Play owned music AND stream Spotify, Qobuz, RDio, Deezer, Tune-in Radio etc.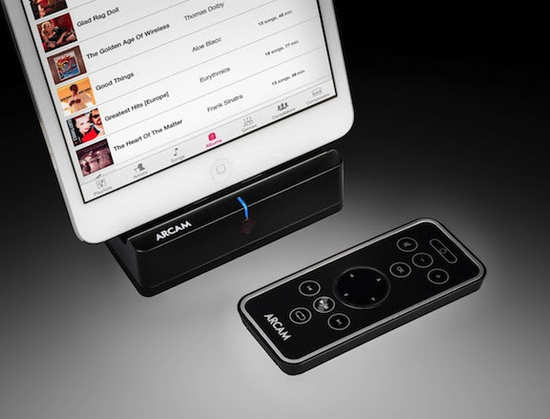 Based on Arcam's years of experience in designing Digital and Analogue audio, the rDock-uni uses audiophile-grade circuitry throughout and allows music lovers to listen at a quality level that no other dock can achieve. Customers can choose to use the high-quality internal DAC on the rDock-uni, or send a digital signal directly to an external audiophile DAC. The results will surprise and delight all who listen.
No-one gets left behind
THE NEW: Direct Lightning Dock - iPhone 5 / 5s / 5c & iPad Mini / rMini / 4 / Air
THE OLD: 30 pin iDevices via USB connection - for all older iPhones/Pod & Pads
- stunning & class-leading sound quality whatever the device, format or coding rate
- digital audio connectivity from 'iDevice' to internal DAC to analogue stereo out
- digital audio SPDIF connectivity from 'iDevice' to high-end external DACs
- Apple Certified "Made For" Lightning connectors on a multi-angle swivel base
- full IR remote control of docked device (handset included)
- control integration with Arcam's Solo neo, Solo mini and Arcam AV Amps
- stylish and robust cast aluminium case, provides stable support for Pads/Phones and Pods
- charges connected device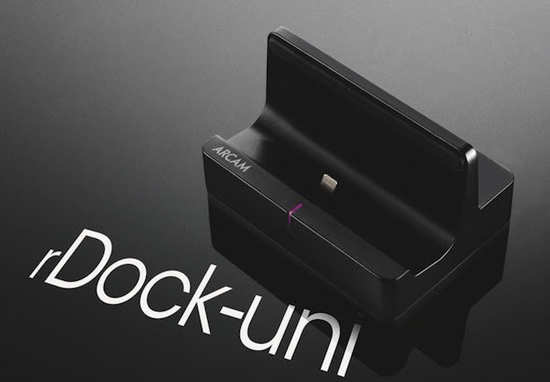 Best Sound
The rDock extracts pure digital audio from the iDevice and processes the music via an audiophile DAC, the Burr-Brown/TI PCM1502 and a Arcam's de-jittering circuitry, giving a huge improvement in sound quality over the 'i' standard audio out. The analogue stereo out goes straight to any form of audio system, or to improve the sound even further, the pure digital signal can be fed to a higher grade DAC such as Arcam's £400 irDAC or £2200 FMJ D33.
No Wi-fi or Bluetooth required.
No need to worry about wireless problems or phone battery life, just drop the device onto the dock and touch play or use the remote control supplied. The device is charged while playing.
No connector problems.
For perfect connections every time and future-proofing through iOS updates, Arcam only use genuine Apple Certified "Made For" Lightning connectors with the correct authentificatiion chip. The rDock-uni also allows users to connect any older 30-pin iDevice to the dock via a rear-mounted USB connector.
rDock-uni by Arcam - £200 UK
A bit more information...
Arcam has led the quality iDock field since 2007. Replacing Arcam's noted drDock, the rDock-uni pushes the performance envelope even further, offering even better sound through enhanced direct digital connections to the docked iDevice and using the latest audiophile-grade circuitry throughout.
iPhone, iPod and iPad
Thanks to an ingenious new shape and robust aluminium construction, the rDock-uni is able to accommodate iPad Mini models, iPad Air, iPad 4, as well as iPods and iPhones.
Genuine Apple Certified Lightning Connector / Multi-angle
Lightning
swivel base
Non-certified copy connectors can cause problems and without the correct suthentification chip cannot be guaranteed to work. Arcam's flexible multi-angle swivel Lightning connector base, allows all sizes of device to dock easily and reduces strain and wear on the connector and device.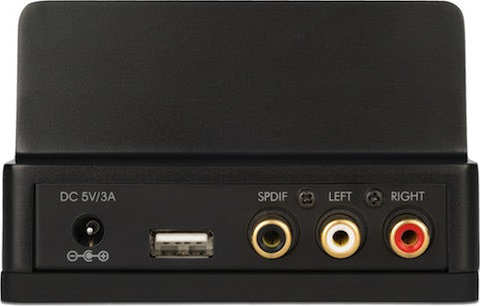 Stand-alone Remote Control - Optional Arcam System integration
The rDock-uni comes with its own IR remote handset but can also be controlled by the Arcam Solo neo and Solo mini music systems plus most Arcam AV amps and the T32 DAB Tuner via their handsets too.
Everything supplied
Built in a solid cast aluminium case and supplied with a full complement of connection cables and accessories, the rDock-uni can be ready to play music in minutes.
Charging
The rDock-uni will charge all connected iDevices.
IN THE BOX
All analogue cables required and a compact global power supply
Specifications
DAC Burr-Brown/TI PCM1502
Audio Frequency Response: 10Hz-20kHz, +0 -0.2dB
Total Harmonic Distortion + Noise: 0.002%
Signal-to-noise ratio (A-weighted): 106dB (24-bit)
Maximum output level: 2.15V RMS
General Power requirements: 5V DC, 3A
Dimensions: W100 x H65 x D72mm (80mm inc connectors)
Weight: 400g