Reckless Racing (iPhone, iPod Touch, iPad)
The Dirt Road Racer You've Been Waiting For!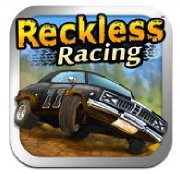 Certificate / Rating:
4+
Retail Price:
£1.79
Release Date:
21/10/2010
Genre: Racing
Perspective: 3D
Resolution:

Related Websites:
http://www.ea.com/games/reckless-racing-iphone

Platforms:
iPhone
iPod Touch
iPad

Publishers:
EA Games

Studios:
EA Mobile

Description:
Made to maximize the Retina Display, the state-of-the-art visuals will make your eyes bug out as you skid, slip, and slide in traditional top-down racing style. Challenge your buddies in online multiplayer, and get ready to go. It's the dirt-road racing game y'all been waiting for on iPhone & iPod touch!

Designed from the get-go to with eye-popping graphic quality, the visual details will really make you feel like you're rolling in the mud deep in the heart of Dixie. And get a load of how Reckless Racing looks with the Retina Display. Have mercy!

Learn the basics as a beginner and choose from a variety of driving controls. Move up through Bronze, Silver, and Gold difficulty levels.. Race across 5 amazingly detailed tracks against rigs controlled by some outrageous in-game characters. Unlock the reverse tracks and race 'em again!

Take on the Dirt Rally, Hot Lap time trial, or Delivery time trial. Beat other drivers or beat the clock. Post your best times in the online leaderboards and trade ghost races with players from all over the world. Chat functionality is also built in!