SimCity Deluxe (iPhone, iPod touch)
Let your inner urban planner run wild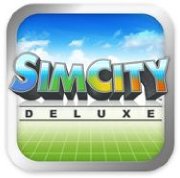 Certificate / Rating: Retail Price:
£3.99
Release Date:
29/07/2010
Genre: Simulation
Perspective: Isometric
Resolution:

Related Websites:
http://www.ea.com/games/simcity-deluxe-iphone

Platforms:
iPhone
iPod touch

Publishers:
EA Games

Studios:
Firemint

Description:
SimCity Deluxe from EA Mobile lets your inner urban planner run wild.

Take on 7 challenging scenarios and watch out for seasonal disasters — or random meteor strikes. Remake bustling starter cities, and finger-paint landscapes with new Terrain Modification. Instantly see how your city's shaping up with more optimized and responsive performance.

Bring your dream city to life with SimCity Deluxe!


7 Scenarios to challenge you
7 Starter Cities based on famous locations
Updated Terrain Modification — finger-paint water, land, trees
4 distinct seasons -- Winter, Spring, Summer, Fall
New seasonal disasters and a Meteor Strike
Performance enhancements include improved zooming and instant image rendering while scrolling
New Building Art
City Rotation — view your work from multiple angles