Reallusion iPhone apps debut deep digital imaging, facial editing & photography tools
Reallusion announces the leap from PC to the iPhone with two apps currently in the iTunes App Store TOP 10 & TOP 50 worldwide: 
Photo Makeover 
is a face reshaping and beautification app, while 
10x Camera Tools PRO 
provides a complete camera, album, photo geotagging and interactive photo action centre. 
http://iphone.reallusion.com
. 
The Reallusion iPhone apps are designed to provide the best and most important tools to expand your iPhone digital lifestyle. Our technology is being considered in everyway to understand how we can best deliver cutting edge visual experiences and unique interface approaches to simplify and grow what you can do with your iPhone. The future of Reallusion applications expands from photography enabled apps into our animation technology. 
Photo Makeover is a runway model's secret weapon when shooting shots with the iPhone. Snap a shot and then edit it with cosmetic magic to change facial features and adjust facial expressions with just a few swipes. Photo Makeover is perfect for touching-up group photos, glamorizing portraits or for runway models, on the run.  
Photo Makeover Features:
· 5 selectable facial regions each with move, rotate and size controls; and the facial outline width and height control provide the ability to make thousands of subtle changes.
· With the iPhone panel, you may enjoy manipulating facial features by dragging, pinching, spreading, and rotating on the screen with merely two fingers.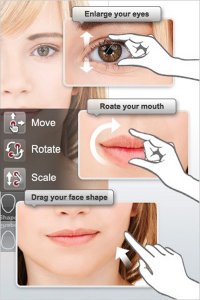 iPhone App Videos: 
Watch video demos of Photo Makeover: 
• 
http://bit.ly/PhotoMakeover
• 
http://bit.ly/photomakeover2
Designed with extreme ease-of-use and one-hand operation, Reallusion 10X Camera Tools completes your iPhone camera with the essential 10 must-have tools to shoot better shots and locate photos faster with albums, tags and notes. Save photos with every detail, including Geo-Tag and Photo Notes up to 500 words. Share photos in full-resolution via Facebook, Flickr, Picasa, and eMail. Available in Standard and Pro versions 
10X Camera Tools Pro Features:
· Add 7 camera modes to iPhone camera
· Digital zoom, timer, full-screen shooting, & rule of thirds guide.
· Add Interactive Photo Notes & tags
· Geo-tag to map and route, direct dialling via photo, URL links to browser
· Show photos by tags and keyword search
· Password lock protection by category tags
· 6 Levels of image shooting size
· Snap multiple photos with continuous taps
· Full size image swipe & zoom preview
· Rotation lock for constant full-screen photo browsing
· Upload photos to Facebook, Flickr, & Picasa
· Multi-photo select, edit & share 
Reallusion apps are already making a buzz in the iTunes App Store Photo community with 10X Camera Tools and Photo Makeover sustaining Top rankings worldwide with over 20 #1 Top Photo App Rankings. 
For additional information, please visit: 
http://iphone.reallusion.com