Arcam MusicBOOST - iPhone 6 Audio & Power Upgrade
The Arcam MusicBOOST is a genuine new category product, a portable headphone amplifier with a high-precision DAC and powerful battery pack for the Apple iPhone 6, all in one sleek protective sleeve case weighing just 100 grams.
This is an ideal travel product, able to be easily swapped in/out depending on usage and totally ends battery anxiety when your boarding pass is on the phone.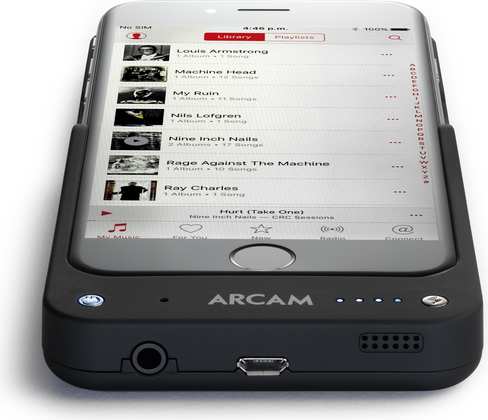 It offers:-
- combined DAC, headphone amplifier, battery pack and protective case
- upgrades quality of
all
iPhone audio whatever the source
- three times the power output of an iPhone
- doubles iPhone battery life
- protects iPhone in daily use
- a fully licensed 'Made For iPhone' accessory
- slim and light despite extended functionality
The sound from an iPhone is good, but the sound quality of all mobiles is compromised by build budget, battery life requirements, space constraints and interference from the radio and digital components of the phone.
The MusicBOOST cuts through the noise
(literally) by extracting pure digital audio from the iPhone Lightning Port, feeding it via a high-performance Texas Instruments DAC and then amplifying it with a powerful Arcam headphone amplifier.
How do we do it?
- We have the power. The powerful MusicBOOST battery drives the audio system directly
- The DAC and Amp are designed by Arcam, world leaders in digital audio
- Arcam use a fully licensed Apple Lightning Audio Module to extract the pure sound from the iPhone
- a combined Digital Audio Converter (DAC) powerful headphone amplifier and battery pack
- advanced Lithium Polymer battery doubles iPhone battery life and drives the music system
- Up to 120 hours of music replay with the iPhone in Airplane mode
You can appreciate the
remarkable improvement in sound quality
, even with basic Apple earpods and a Spotify stream. When you plug in serious £30 - £100 in-earphones the benefits are huge, and if you like big over-the-ear headphones, the MusicBOOST will give them a kick that no phone can match.
Totally transparent to the source
. If an app can play audio, the MusicBOOST will improve it. The performance boost is there for Music, Spotify, Tidal, SoundCloud, Qobuz, YouTube, Videos, FLAC Player and much more.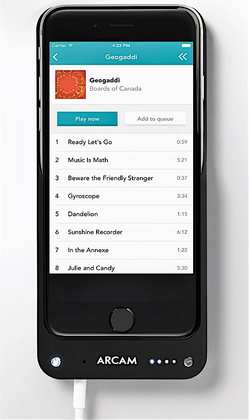 Quote from Charlie Brennan - Arcam MD
"With the MusicBOOST, we've applied our serious audio engineering talents to the iPhone. The improved sound will make you want to listen to more and more music, so even better that it also doubles iPhone battery life."
Music Boost Key Features
- '
Made For iPhone
' officially licensed accessory
- Digital Audio via in-built Apple
Lightning Audio Module
- High-precision PCM1502 internal DAC
- Dedicated internal headphone amplifier
- Internal Lithium Polymer rechargeable battery, powers amp and DAC
- Recharges iPhone for double the battery life
- Up to 120 hours music replay with phone in Airplane mode
- Four LED charge indicators
- Power and Battery Check buttons
- Micro USB charging with lead supplied
- Phone Priority Charging - the phone is charged first, then MB charges its own battery.
- Soft touch sleeve case protects iPhone
- A massive audio upgrade for iPhone headphone users
- Arcam quality DAC & Amplifier markedly improve sound quality
- Power to drive headphones large and small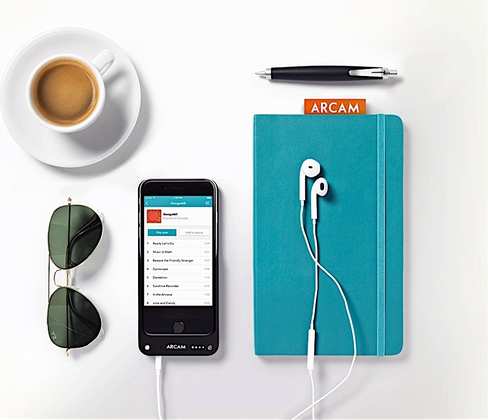 Music Boost Specs
Headphone Impedance / Output Power
16 Ohm / 44 + 44mW
32 Ohm / 22 + 22mW
64 Ohm / 11.5 + 11.5mW
300 Ohm / 2.5 + 2.5mW
Battery - 2800 mAh Lithium Ion
W x H x D 69 x 153 x 14mm.
Weight 100g
UK Price £120 inc VAT - On sale now
NOTE - iPhone 6s fits with a push and eases after a few uses
NOTE - Not planned for 6 Plus at this time
NOTE - There is no control path back to the phone via the Lightning Module so remote volume, FF etc won't function...