One For All: Rechargeable Wireless TV headphones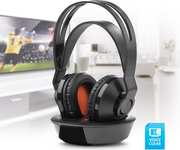 Retail Price:
£49.99
Release Date:
Hardware Category: Wireless Headphones

Related Websites:
http://www.oneforall.co.uk/headphones/hp1030-rechargeable-wireless-tv-headphones.html

Description:
Delivers an enhanced wireless TV listening experience, with crystal clear sound, free from background noise.
Voice Clear Technology for high speech intelligibility
Cushioned caps for comfortable wear
Freedom of movement up to 100 metres
Powerful rechargeable Li-on batteries for uninterrupted TV listening up to 12 hours
Unlike a usual audio headphones, these wireless TV headphones were designed to deliver high speech intelligibility and enhance your TV viewing experience. Thanks to the Voice Clear Technology and their functional design, you not only get an outstanding quality of the spoken voice but also an interference-free audio without the background noise. Don't miss another word during your favourite show, movie or game.
Technical Specifications:

Hardware Requirements:

Software Requirements: