Thinksound ts02+mic In-Ear Headphone
Smooth Sound for Smooth Talkers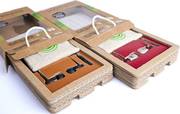 Retail Price:
£99.99
Release Date:
Hardware Category:

Related Websites:
http://www.thinksound.com/ts02mic.php

Description:
thinksound™ ts02+mic headphones feature an in-ear 8mm high-definition driver with integrated microphone and call control. These eco-friendly earphones have "excellent sound quality, and produce a rich, and warm sound, which is clear and crisp." (Geeky Gadgets) You can easily answer calls via the sleek, one-button control.

The ts02+mic flaunts a reduced speaker diameter and housing size to provide better ergonomics, upgraded acoustics, and a wider sound-stage. "The ts02+mic fits comfortably and its high-definition driver pumps out warm sound that is as clean as the artist who made it probably intended." (Gear Diary) Like our other models, the ts02+mic also features PVC-Free cables and a hand-crafted, sustainable wood housing for more accurate sound reproduction.

Offered in a rich Silver Cherry or Black Chocolate finish, every pair comes with a cotton carrying pouch, and four sets of ear fittings to ensure a perfect fit. As with all of our products, thinksound ts02+mic in-ear headphones come with a one (1) year warranty.
Technical Specifications:

Hardware Requirements:

Software Requirements: