Radiopaq Goes Seven Shades of Dotty
(red, green, blue, purple, pink, black & white)
Visionary multimedia brand Radiopaq today announce the launch of their dynamic designer dots. - an outstanding, affordable range of earphones packed with great features to enhance the audio experience for music-lovers of all tastes.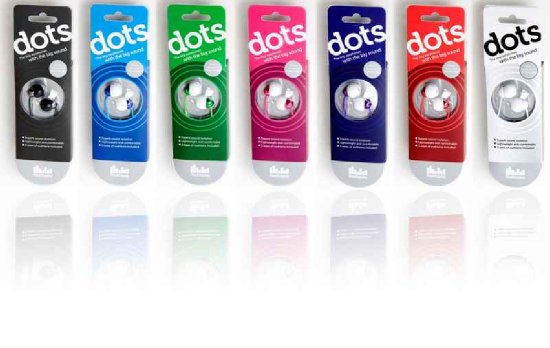 Key features
o Unrivalled, superior audio performance and quality for price.
o The world's smallest sound driver delivering sound quality, noise isolation and comfortable fit.
o Thoughtful stylish design and robust practical construction.
o Fresh and trendy colour options in a contemporary metal finish.
Audio Performance
Radiopaq's remarkable dots. earsets produce a sound quality to rival far more expensive models, performing to the highest acoustic standards. The diminutive dots. earphones produce ferocious high quality, Hi-Fi audio output to everyone, everywhere - all for under an astounding and affordable £15.
dots. deliver performance across all frequencies from high to low; for base without rumble and crystal clear vocals.

Secure Fit and Comfort
Sporting a unique ultra-tiny sound driver (50% smaller than most standard earphones) and based upon nano-acoustic technology, Radiopaq dots. come bundled with a selection of three sizes of silicone ear-cushions to provide a customised earpiece that will fit even the knobbliest ear-canal.
This is not only more comfortable to wear than other traditional sized and more bulky or rigid options but ensures a secure hold during even vigorous sporting activities.
The ear-cushion choice combined with the small driver, ensures a snugger fit that delivers excellent sound isolation as it effectively cuts out more of the ambient background noise, reducing the maximum volume needed to clearly hear the playback and thus allowing safer audio levels to protect the ears.
Designed for flaunting
The thoughtful, elegant bead design is complemented through a choice of seven funktastic, fresh colours to match any kit, occasion, mood or season.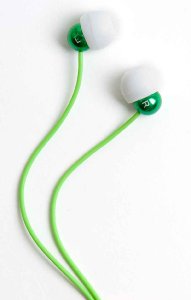 Quality Construction
Eschewing flimsy plastic construction, the dots. range is thoughtfully designed featuring the highest quality, most suitable materials:
o bead earpieces are made from robust, attractive metal alloy.
o dots. also feature a soft rubber silicone cable finish, helpfully making the cable tangle-resistant - so no more knots or messy pockets.
o To ensure best sound quality during transfer, dots. also feature a gold-plated, 3.5mm stereo jack plug so are perfect with any iPod, iPhone, or other MP3 and MP4 players.
Radiopaq dots. Compatibility
o Any Apple iPod
o Apple iPod Touch
o Any MP3 Player with a 3.5mm Stereo Jacket socket
o MP4 Players
o Laptops, Notebook, Netbooks and Computers
o Portable DVD players
o Note: Dots are not compatible with Apple iPod Shuffle
Availability
Available now from HMV, Game,
amazon.co.uk
,
tesco.com
and other fine establishments - See following link for regularly updated stockist and pricing information:
www.radiopaqproducts.com
Specification
Driver 2.25mm Micro audio Drivers
Connection 3.5mm Sterio audio jack plug
Sensitivity 91+/- 5dB at 1kHz
Frequency Range 20 - 20kHz
Impedence 10 ohm
Cable length 1.2 Metres
Provided with one pair of Small, Medium and Large Silicone ear cushions
RoHS, REACH, CE & WEEE Compliant