FreeLoader Pro Solar Charger
With CamCaddy!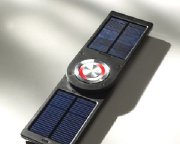 Retail Price:
£69.99
Release Date:
Hardware Category: Charger

Description:
Free, infinite, eco-friendly power from the first Solar Gadget Charger to keep your cameras armed and ready.

Introducing the super hero of solar powered gadget chargers, the FreeLoader Pro and its trusty sidekick, the CamCaddy.

The new FreeLoader Pro professional Portable Solar Charger by Solar Technology, the latest entry to the award winning FreeLoader series, is a must have accessory for all gadget owners, and now with the inclusion of a unique power cradle, the CamCaddy, users can, for the first time, charge digital compact camera, SLR and video camera batteries. Never miss a moment, the lightweight and rugged CamCaddy is the ONLY camera battery charger capable of powering virtually all camera batteries*.

Designed to provide free and infinite power to almost all portable electrical devices, the FreeLoader Pro, a super powered version of the FreeLoader, is the perfect eco-friendly, pocket sized partner for an endless array of gadgets in addition to cameras such as; mobile/smartphones (including the iPhone and Blackberry), mobile gaming consoles, MP3 players, SatNav's, e-books, PDAs etc. The FreeLoader Pro now also features a clever Multi Voltage Switch allowing you to switch to 9.5V to charge higher voltage devices such as power hungry DVD players and MP4 players

Back to black, the FreeLoader Pro has a sleek new design, featuring a stylish 'piano black' finish encompassing a metallic 'power halo' which illuminates blue to indicate the power available in the onboard battery. As well as looking fabulous, the FreeLoader Pro boasts a practical design that would survive the toughest of conditions, perfect for explorers, the armed forces, even the A-Team! It features a tough, rust free aluminium casing for the likely knocks of a vigorous journey and a mere 174g pocket-friendly weight, making it the ideal travel companion for any journey whether the train ride to work, your annual holidays or a treacherous climb up Mount Kilimanjaro! The FreeLoader Pro is also the ultimate 'global' travelling solution. As well as providing hassle free power in even the remotest of destinations, because the FreeLoader Pro can partner with such a wide variety of gadgets, it eliminates the need to carry country specific adaptors.

Built to last and the very definition of simplicity, the FreeLoader Pro is ultra reliable, easy to use and extremely flexible. It uses its high power solar panels or USB* (cable supplied) to quickly charge its internal battery which in turn is capable of delivering enough power to, for example, provide a mobile phone with 70 hours of standby time, 5000 page turns on an eBook or a 100% full charge for a digital camera battery. The Freeloader Pro's 1600mAh environmentally friendly Li-ion internal battery can hold its charge for up to 3 months.

The new FreeLoader Pro is supplied as standard with ten adaptors, a USB charging cable and a soft carry pouch.
Technical Specifications:
• 200mA premium quality crystalline solar cells
• 1600mAh environmentally friendly Li-ion battery - typical battery life is 2 years.
• Freeloader's solar panels can charge its internal battery in as little as 8 hours or 3 hours when using the supplied USB charging cable
• Supplied with a Master Cable for connecting to a device or CamCaddy and for charging Freeloader Pro from a computers USB
• Impact resistant, rust free aluminium body.
• Freeloader holds its battery charge for up to 3 months
• Supplied with detailed user manual

Supplied with ten adaptors to fit the following:

1) iPod, iPhone, iPhone 3g, iPhone 3gs, iPod Touch, iPod Nano etc.
2) Nokia phones using both standard and mini adaptors (2 supplied)
3) All current Samsung phones (2 supplied)
4) All current LG phones
5) All current Sony Ericsson phones
6) Nintendo DS Lite
7) Mini USB adaptor for Motorola phones, Blackberry and most smartphones, Garmin / SatMap and most GPS, Bluetooth headsets, PDAs
8) 4mm tip for Sony PSP, Archos and most MP4 players, 2 way radios, portable DVD players, e-books, digital cameras and PDAs
Hardware Requirements:

Software Requirements: