FreeLoader Classic Solar Charger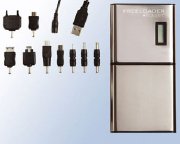 Retail Price:
£39.99
Release Date:
Hardware Category: Charger

Description:
The new FreeLoader Classic from Solar Technology International is a state-of-the-art solar charger set to become the star of the solar mobile charging world, with new super powerful solar panels collecting 25% more power and the ability to provide charge for the Apple iPad.

The ultimate mobile universal charger, the FreeLoader Classic is capable of powering the world's most popular mobile devices. It boasts cutting edge electronics and super solar panels which harness the power of the sun to charge its internal battery in 8 hours, which in turn can deliver power to an iPod / iPhone for 18 hours, a smart phone for 44 hours, a PSP or DS for 2.5 hours and an iPad for 2 hours. Ready for action direct from the box, 9 connector tips are supplied as standard including the new 'standard' micro USB, and a USB socket provides a direct input for the standard USB cable supplied with many gadgets, such as the white cable supplied with all Apple devices.

The perfect travel companion, the new FreeLoader Classic is small and light, so will easily slip into a pocket or backpack, and is housed in a hard wearing and stylish silver aluminium skin built to survive the vigors of the road. Designed to supply solar power in the most remote locations where a power supply is not available, the FreeLoader Classic is an essential part of luggage for festivals, holidays, trekking and hiking etc, or can simply provide back-up power on long commutes. When the sun hasn't got its hat on, the FreeLoader Classic can be charged via USB in just 3 hours.

The FreeLoader Classic also features a new, clever built-in LCD data panel which provides useful information about battery level, power input and connectivity. The data gives a clear and concise overview of the FreeLoader Classic's status at all times, so there are no idle times and users can be more intuitive with the charging process to ensure that there is always charge stored up for a rainy day.

The Freeloader Classic has a number of accessories, notably for hard core requirements, the Supercharger, which is designed to freeload more of the sun's power and consequently powers up the FreeLoader Classic in super quick time. The Supercharger is tough, weather resistant and can be fitted to the outside of a rucksack or on bike panniers. The Supercharger can be purchased individually or can be bought bundled with the FreeLoader Classic as the Globe Trotter package.

Existing FreeLoader owners with end of life batteries can upgrade to the FreeLoader Classic for a small charge. Contact Solar Technology for further details.
Technical Specifications:
150mA premium quality crystalline solar cells
1200mAh environmentally friendly Li-ion battery.
Charge Freeloader Classic using its solar panels in 8 hours or via a PC in 3 hours
Supplied with a master cable and nine adaptors to fit the following:
Mini USB - Motorola, Blackberry, Smartphone, iMate etc
Micro USB - Motorola, Blackberry, Nokia etc - the new "standard phone adaptor"
4mm straight jack - PSP, TomTom, EBook etc
Nokia 3.5mm straight jack
Nokia 2mm straight jack
Sony Ericsson - wide adaptor
Samsung - G600 series adaptor
LG - Chocolate, Prada etc
DS - DS Lite
USB socket in built to allow connection from devices with their own USB charge cable - e.g. Apple products.
Aluminium body
Supplied with detailed user manual
Hardware Requirements:

Software Requirements: