Edifier Announces the Esiena Bluetooth - Complete Home Music Centre for iPod/iPhone and FM Radio
Edifier proudly the announce Esiena Bluetooth.
Esiena Bluetooth provides 'big system' sound quality for all of your audio entertainment needs. Complete with Bluetooth capabilities for wireless streaming, USB/SD Reader, iPod /iPhone docking station, digital clock with alarm and FM radio, Esiena Bluetooth is perfect for home and office. Esiena's classic housing rounds out this powerful lifestyle audio solution.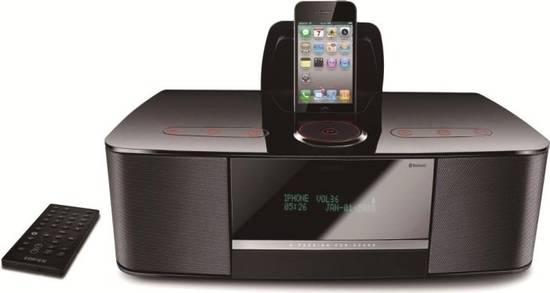 Esiena Features
Bluetooth pairing capability with Bluetooth enabled devices
Digital FM radio with RDS capability and 9 presets
Digital clock with alarm and a full array of functions
USB/SD card readers, both MP3 and WMA capable
Auxiliary input connects any 3.5mm enabled device (MP3 players, etc.)
Wireless Remote control with full iPod/iPhone navigation
High intensity dot matrix VFD display
3 " magnetically shielded full range driver w/class D digital amplifier for enhanced bass frequency response
Docking adaptors to custom fit all iPod/iPhone players
Features EILC - Edifier Intelligent Loudness Control. A patented technology which adjusts loudness in volume in certain frequency range with preset factors. Overall, the clear and balanced sound can be heard in different volume with EILC technology.
Main Specifications
Total power: RMS 30W × 2
Signal to noise ratio: ≥80dBA
Distortion: ≤ 0.5%
Frequency response: 52Hz–20KHz
Input sensitivity: 750 ± 50mV
Speaker units: 3" (78mm), magnetically shielded, 6Ω
Input type: FM/Bluetooth//USB/SD/AUX/iPod
FM Preset: 9 preset channels for each region
Region selections: EU/ASIA//US/AUS (87.5-108.0MHz), JAP (76.0- 90.0MHz),
wide range (76.0-108.0MHz)
Alarms: 5 independent
Alarm sound time: 1 minute
Snooze time: 10 minutes, max snooze repeat times: 3
Sleep timer options: 15, 30, 45, 60, 75, 90 minutes.
Dimension (Unboxed): 15.5" x 5.75 x 8.5" (W x H x D) 11lbs (Net)
Dimension (Boxed): 18.31" x 9.06" x 11.69" 46.5cm x 23cm x 29.7cm 13.9 lbs | 6.3 kg
Price and Availability
The Edifier Esiena is available at SRP £249.99 inc from CostCo and Amazon