Hauppauge myTV 2GO Wireless Freeview (iPhone, iPad, PC, Mac)
Watch and record Freeview on your iPhone, iPad, PC or Mac!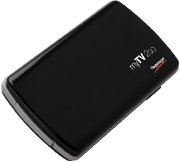 Retail Price:
£119.99
Release Date:
3/2/2012
Hardware Category: TV Tuner

Related Websites:
http://www.hauppauge.co.uk/site/products/data_mytv2go.html

Description:
Download the Free App, extend the built-in antenna, scan for channels and watch LIVE TV. It's that simple.

Watch and record Freeview TV on your iPad or iPhone, in your home while moving around, in the kitchen, in the garden or even in the bedroom.

myTV 2GO is simply the easiest to use digital TV receiver for your iPad or iPhone myTV 2GO sends live digital TV signal over a Wi-Fi connection to your iPad or iPhone, so the connection is wireless making installation a snap! Just extend the built-in myTV 2GO antenna and place the device where you get good Freeview DVB-T reception (such as near the window in an airport, hotel or at home). Then start watching live, great quality Freeview DVB-T TV!

myTV 2GO is easy to setup. Simply switch on the myTV 2GO, connect it wirelessly to your iPad or iPhone, download our TV app from the App Store and follow the simple on-screen channel setup menus.

Watch and record live TV on your Mac and PC too! With the Fuugo PC and Mac software included in the myTV 2GO package, you can watch live Freeview digital TV on your PC and Mac wirelessly! Your computer can be used as a live TV set and recorder anywhere in the home with no cable needed!

myTV 2GO includes the latest generation digital terrestrial TV tuner, giving you sharp digital TV from a mobile device small enough to fit in your pocket. With an integrated Wi-Fi transmitter and rechargeable battery, myTV 2GO allows you to watch TV anywhere giving you the freedom of watching what you want where you want.

The built-in Wi-Fi connection does not require a dataplan to operate. So you can receive unlimited live Freeview DVB-T TV on your iPad or iPhone without using dataplan minutes.

myTV 2GO is easy to setup!:
Switch on myTV 2GO and place it where you get the best DVB-T (Freeview) reception
Install or download the TV software on your iPad, iPhone or PC or Mac
Connect your iPhone, iPad or laptop to myTV 2GO via Wi-Fi
Follow the simple setup menus. Then start watching TV wirelessly!
Technical Specifications:
DVB-T Freeview TV receiver
Telescopic antenna
Built-in Wi-Fi
Battery use up to 3.5 hours
Mini USB port
Dimension 50 x 90 x 13 mm
Weight 70 grams
Hardware Requirements:
iPad, iPhone, Mac or PC
Software Requirements:
iOS, Windows or MacOS