MAGIX Website Maker MX - The Best Website Maker of All Time
You will be amazed by what your web page can do!
MAGIX AG has announced the release of Website Maker MX. 
MAGIX Website Maker MX
 combines easy operation with unlimited freedom of design. Using the most modern Flash technology, you can create unique, dynamic websites with animations and effects that stand apart from classical HTML pages and are displayed identically in any web browser.
With hundreds of improvements, interactive effects, new powerful widgets and ingenious media presentation options everything is easier and better than ever. The new ImageSlider offers a great way to present photos interactively with all kinds of transition effects and various other adjustable options. In addition, the new HD video player enables you to show high resolution HD videos in top quality.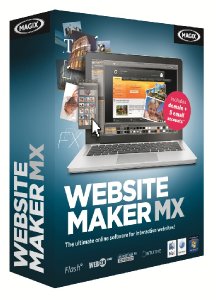 MAGIX Website Maker MX
 comes in a complete package - including the customized web hosting package "Easy PLUS". This contains everything you need for creating and maintain websites including one custom domain of your choice - such as www.yourname.com/.org/.eu/.biz, five e-mail accounts (
emanruoy[at]moc.emanmotsuc
, 1 GB space for each account) and 5000MB of web space with your own data management, extra space available on demand. 
Features:
Includes "Easy PLUS" - 1 custom domain, 5 email accounts and 5000MB of web space.
NEW! Subpages with roll-out navigation
NEW! Interactive mouse effects. Play sound effects

 

when the mouse cursor moves over a certain object? Or unhide one or multiple objects of your choice with a mouse click?
NEW! ImageSlider & HD video player.Present photos interactively with all kinds of transition effects

. 

Show high-resolution HD videos (H.264) in top quality
NEW! Web space management. Manage Website Maker web space just how you like it

.

 Create rename, delete and copy data into your own folders and subfolders.
IMPROVED! Photo and video presentation
Powerful text functions
Widgets and extras
NEW! Insert HTML code
NEW! Smart publish
Animations and effects
Search engine optimization
PLUS! Community connection
Compatible with Windows and Mac
Price & Availability:
MAGIX Website Maker MX
 is available now for SRP £39.99 inc VAT from Amazon and PC World. For more information, please see: 
magix.com/gb/website-maker/