Keep your iPhone 6 beautiful with Tech21 Impactology protective case
Tech21, Impactology innovators, announce their new impact protective cases for
iPhone 6
are now available online at
tech21.com
and coming soon to all major UK retailers.

The case range will consist of the Classic Mesh, Band, Tactical and Frame. Each case provides market leading impact protection thanks to Tech21 Impactology's promise to always provide the most intelligent impact protection. Tech21 can make this promise thanks to their use of scientifically proven impact absorbing materials, ingenious design and unbeatable user friendliness.
Tech21 Classic
iPhone 6 cases
range includes:
·
Classic Tactical -
Slim-fitting and flexible, the Classic Tactical design surrounds the back and sides of your technology with a ruggedised, protective layer. Minimalistic, with access to all features, it is easy to assemble and incredibly user-friendly.
SRP £24.99
·
Classic Frame -
The iPhone 6 Classic Frame is smooth to touch, with a unique frosted hard back plate which protects whilst exhibiting the stunning design of your smartphone. It's exceptionally easy to assemble, with a transparent look and feel which showcases integrated D3O® impact material. Encase the corners and back of your device to experience a secure fit and feel.
SRP £24.99
·
Classic Check -
Our Classic Check design for the Apple iPhone 6 features an original check pattern on the interior of a transparent, flexible shell. Slim-fitting and smooth to touch on the outside, the Classic Check is testimony of our passion to provide intelligent impact protection without concealing the original beauty of your device.
SRP £24.99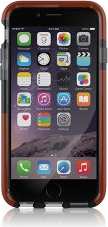 ·
Classic Shell -
Our smooth Classic Shell design for iPhone 6 surrounds the sides and back of the device with a soft, protective layer. Flexible, with access to all features, the Classic Shell is quick and easy to install with unbeatable user-friendliness. Slim-fitting and available in a selection of colours to suit your preference, the Classic Shell compliments the device whilst offering intelligent impact protection.
SRP £24.99
·
Classic Shell with Cover –
the unique design of the Tech21 iPhone 6 case delivers excellent impact protection for the back and side of your iPhone 6 in a slim fitting design. Our designers have combined a premium TPU formula which is respected for its flexibility and abrasive resistance, the D30® material can be seen within the shell offering complete impact protection against drops or knocks.
SRP £29.99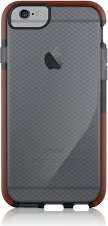 Tech21 Classic
iPhone 6 case
s
deliver 4 features

•
Scientifically Proven Materials –
D3O® inside the Tech21 iPhone 6 case range offers unrivalled protection against accidental drops and falls by absorbing and dissipating impact
•
Advanced Protection –
included in the iPhone 6 case is Tech21's best-selling TPU formula which is recognised for its flexibility and abrasive resistance
•
Slim Fitting design –
the Tech21 iPhone 6 case offers the ultimate protection without interfering with the overall design of the phone.
•
Access to all the ports and features –
with an Impactology case protecting your iPhone 6 it will be kept in pristine condition whilst still giving full access to the phones ports and features
A range of Tech21 iPhone6 and iPhone6 plus cases are available direct from
www.tech21.com
and also in UK from O2, Carphone Warehouse and EE.
For more information visit
https://www.tech21.com/smartphones/apple-mobile-cases-and-covers/iphone-6-cases/
www.tech21.com
What makes Impactology different?

1.
Scientifically proven materials
The team at Tech21 pride themselves on their ability to design innovative Impactology™ cases which provide unrivalled protection to mobile devices thanks to the use of scientifically proven materials such as D3O® combined with ingenious, slim fitting design.

2.
Designs to suit your style
Tech21 Impactology™ cases including
Impact Shell, Impact Tactical and Impact Frame
are available from leading mobile stores in a variety of styles and colours for the Apple iPhone 5c, iPhone 5s, iPad, iPOD Touch and other devices.

3.
Full access to all the functions
The latest handheld and tablet devices now packed with even more features, such as the fingerprint identify sensor technology; need to be accessed quickly and easily. With a Tech21 case this is never an issue, as every case has been specifically designed to ensure complete access to the devices functions, ports and keys. So whilst the phone is protected the performance and customer experience aren't compromised with Impactology products.
Impactology cases protect phones from accidental drops or falls by absorbing the impact. There's a range of products available for
Apple iPhone 6/ 5s, 5, Samsung Galaxy S4, Samsung Note3, Nexus 5 and Apple iPOD
.
To find out what makes Impactology different watch the latest video here: