New In1 Multi-Tool Utility iPhone Case - Combines a Sleek Design with 8 Functional Tools in One Case. Perfect for People on the Go
The in1 case is a rugged but beautifully designed multi-tool/phone case perfect for people on the go! It has a variety of tools cleverly built in to the design of the product including:
2 Precision Screwdrivers
2 Ball Point Pens
A Nail File
A Pair of Tweezers
Scissors
A Kick Stand
IN1 is a phone case manufacturer with a focus on innovation and comprehensive design strategy. The In1 Case is sure to shake up an industry which has gotten stale, only concerned about the least expensive route to mass produce the same old case design by the millions.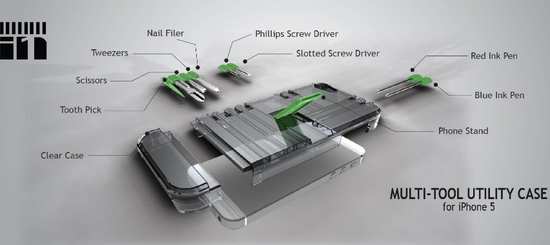 These tools are aimed to be helpful with everyday tasks. So whilst the in1 case won't assist you in removing and rebuilding a gearbox from a 1985 Ford Sierra or help you slay, skin and cook a wildebeest, they will help with day to day tasks such as writing notes and cutting open packages.
Also by omitting other implements from the in1 case it has allowed the company to make it fully TSA Compliant.
The In1 Case is available in White, Black and Clear. You can also pick the colours of the tools you want making it highly customisable to your taste.
Price & Availability
The In1 Case is available from Amazon at RRP £29.99 inc . The In1 Case is currently available for iPhone 5/5s with 5c coming soon.