Manfrotto Presents the New All in One Photographic Solution for iPhone 6 and 6 Plus
Manfrotto has enlarged the KLYP+ family with the addition of the KLYP+ for iPhone 6 and 6 Plus.
Specifically designed to provide protection for the iPhone 6 and 6 Plus and enhance your 'iPhonography' skills, the KLYP+ case is constructed of strong polycarbonate to protect your device from scratches and falls. Each case comes with a small kickstand that props up the iPhone and, thanks to the tripod adaptor, allows you to connect it to any camera support.
Available in three different colour ranges: black/anthracite, white/cool grey and red/anthracite, the KLYP+ is perfect for those who love to capture special moments using the stylish, compact and intuitive accessories in the KLYP+ range.

6 Interchangeable Lenses to Achieve Great Effects
The KLYP+ lenses enable you to obtain many different creative effects by simply screwing them into the photography case – aligning them perfectly with the iPhone camera. Alongside the existing range of the Fisheye and Telephoto 1.5x lenses, Manfrotto have also introduced four new lenses to the range. The Telephoto 3x replaces the 'out of focus' zoom of the iPhone and the Super Wide angle is perfect for capturing beautiful limitless landscapes. The Polarizer reduces glare, increase contrast, brightens colours and achieves sharper, more detailed images. Finally, the two in one lens is a wide angle lens that enlarges the field of view and, by simply unscrewing the top it turns into a macro lens, allowing for close up shots.
Lighting and stand accessories for sharp, natural images
The continuous LED light with surface mount technology makes it possible to shoot clear photographs and videos in any light condition. It comes with a built in tripod mount which ensures stability and can be attached to all types of camera supports.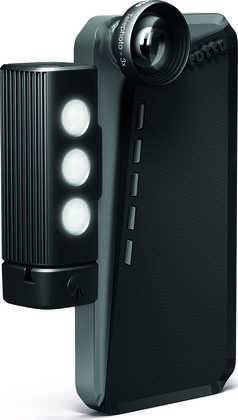 New improved KLYPapp+
The KLYPapp+ has been updated with a new, intuitive user interface. Both manual and auto mode, independent focus and exposure settings have been added. In video mode you can let your creativity run wild and capture stopmotion and time lapse videos. Finally, you can enhance your memories with the post production features to keep them looking their best!
Available to buy in selected retailers now.
Prices from £24.95 inc VAT
For more information, visit
www.manfrotto.co.uk