Barcode yourself with the new iPhone app from ScanMe
ScanMe.com was recently ranked number 1 website by UK national television show, 
The Gadget Show
Just like a loaf of bread or a bottle of milk, you too can now have your very own barcode.
ScanMe.com
 is a new social interaction sensation that uses personalised QR barcodes to get people in the real world instantly connected online.
 Instead of a price check, your unique barcode stores your personal contact information and links others to your social network profiles with one quick scan.  Available to download from the 
Apple App Store
 now, the new free app from ScanMe is a convenient and simple way to get started.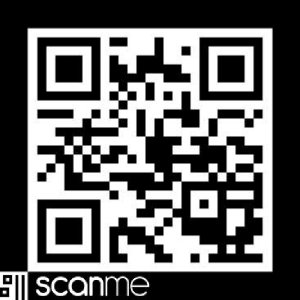 The ScanMe Barcode app lets you create your unique ScanMe barcode and set up your customisable scan page. You can control and manage your scan page over at ScanMe.com to choose what people see when they scan you (such as your telephone number or current status on your social media profile) and your unique barcode is for life no matter how many times you amend your details.
Using the ScanMe Barcode app ensures that you carry your barcode with you wherever you take your iPhone - you can even set your barcode to be your 'lock page' wallpaper so if you are in a hurry you can display your barcode ready for scanning with just one tap. Your barcode is universal so it can be scanned by virtually any Smartphone with a scanning app.
The free app also includes a barcode scanner that uses your iPhone camera to lock on to other peoples' QR barcodes. It's a fun, quick and easy way to hook up online with new people at parties this Christmas and New Year. The ScanMe Barcode App also allows you to start scanning all those barcodes you have seen on the telly and in magazines to connect with product information, recipes and more. No internet connection? No worries, you can scan other ScanMe barcodes offline! The app includes a 'history' feature that will store the information of the barcodes you scan which you can then access as soon as you get back online. You can also use the history feature to review who and when you have scanned someone - just in case your memory is a bit sketchy after a night out!
John Harrison, co-founder of ScanMe commented: "It's not essential to have the app to join the barcode revolution, we already have over 150,000 accounts and have created over 500,000 QR barcodes via the ScanMe.com website - some of which have been created for businesses and are being included on marketing material and business cards. We also have a range of interactive merchandise such as T-shirts that our members can have their barcode printed on - but the ScanMe Barcode app simplifies the barcode experience for new users, has many useful features that are convenient on the go and is free. It's a no brainer!"
Visit 
www.ScanMe.com
 to view existing Scan Heroes and the Social Leaderboard. You can download the ScanMe Barcode app 
here