The new Arcam irDAC - a Compact High-Performance 24/192 DAC
On Sale Now - 
£400 UK - $700 USA/AU
The Arcam irDAC replaces Arcam's best-selling rDAC and is a brand-new design, effectively a stripped down version of the £2000+ D33 SuperDac, offering a substantial jump in performance over its' predecessor and exceptionally usage flexibility.
After extensive testing against competitors, Arcam confidently claim that
this is the best DAC money can buy under £500 / $1000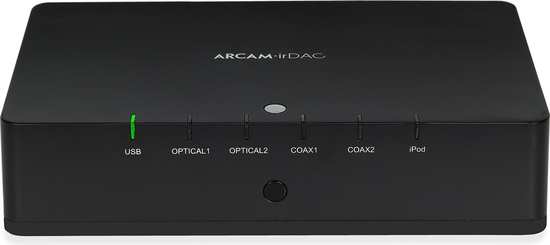 - stunning performance for the price
- hugely flexible with six inputs & IR remote control
- class 1 and Class II asynchronous 24/192 USB inputs for computers
- direct iDevice USB input for iPhones/Pad etc
- control PCs, MACs and iPod®/iPhone®/iPad® with the remote hansdset
Using
expensive audiophile grade components
throughout and more than 40 years of analogue and 25 years of digital audio design experience, Arcam have engineered the irDAC to be a simple, "plug and play" device that delivers astonishingly high audio quality
- TI/Burr Brown PCM1796 DAC
- high-end audiophile-grade analogue and digital audio circuitry
- 8 separately regulated power supplies
- vanishingly low jitter
- heavy anti-vibration cast aluminium case
- can be powered directly by Arcam A19/AVR 450/750 with additional performance gains
Arcam irDAC
The irDAC, so called because it now has
infra-red remote control
, owes much to the work that was done on the reference D33 SuperDAC and comes packed with cutting edge technology and features that will benefit the most demanding user.
High-end features
like isolation of the digital and analogue stages, ultra-low noise power supplies and a direct coupled signal path make a big difference.
Arcam use the
outstanding Burr Brown 1796 DAC
as well as 8 separately regulated power supplies to ensure class leading performance that they believe will be unmatched in this price category.
Jitter reduction
is an obsession within the Arcam engineering team. They have learnt a huge amount about this technology and have applied this experience in the irDAC to produce a signal that is almost jitter free.
The irDAC is designed to be the
heart of a digital system
and can be connected to a host of different types of digital sources and connections. This includes asynchronous USB and a direct iPhone input that that takes the digital signal direct from an Apple device to optimise the sound quality.
All of the inputs can be controlled through an IR remote that will also control PCs, MACs and iPod®/iPhone®/iPad® via the HID (Human interface device) control.
irDAC Tech Specs
DAC - TI PCM1796
Inputs - USB, SPDIF, Optical, iPod
Frequency response 10Hz -- 20kHz, ±0.1dB
Total Harmonic Distortion + Noise 0.002%
Signal-to-noise (A Weighted) 112dB (24-bit)
Line output level 2.2Vrms
Supported sample rates 44.1kHz, 48kHz, 88.2kHz, 96kHz, 192kHz
Bit depth 16-bit, 24-bit
Power requirements 7W max
Dimensions (wxdxh, mm) 160 x 100 x 40
Weight 700g

Tech Notes
improved post filter topology, delivers better group delay characteristics.
a brand new output stage provides higher current and lower noise.
expensive WIMA capacitors
through-hole components in critical parts of the circuit.
lower distortion than the more commonly used surface mounted equivalents
lower noise and improved dynamic range
high voltage power-supply with superior regulation
larger board surface area than before, with optimised layout on the 4 layer PCB
24/ 192kHz playback on the class II USB input
USB port charges iPods, iPhones & iPads with 2.1 amps via the USB connector
firmware can be updated via a PC app
performance improves further when powered by FMJ A19/AVR 380/450/750 etc