Eclipse TD-M1 Hits the Apple Store Europe - £999 GBP
Eclipse of Japan, are pleased to announce that the
TD-M1 Active 24/192 Desktop Music Monitor /
Airplay System
, is now for sale on the Apple Online Store.
The TD-M1 is THE audio accessory for serious Mac users, already in use by many noted musicians and producers, for music making, film soundtrack editing and pure unparalleled listening pleasure.
Paul Burnip, Eclipse TD Sales Manager
commented
"We have many Apple users as customers and this is a very important step in introducing our new active system to a wider audience. "Many musicians, engineers and producers who create on the Mac, are buying M1's as the ultimate quality control tool, because no other desktop speaker does the job as well"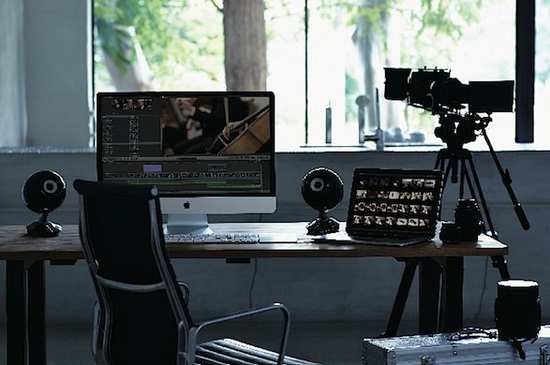 From
Fujitsu Ten Eclipse, comes the
TD-M1 Active
Wireless Airplay Speaker System
- one box, two speakers, incredible sound
- wide-ranging wireless and wired connectivity
- ultimate clarity in a wireless / desktop speaker system
- full implementation of Eclipse's noted Time Domain design theory
- use as Hi-Fi, Desktop Monitor, TV Sound enhancer, PC, Mac, iPhone/Pad/Pod, UPnP and more
The TD-M1 combines the very latest audio technologies, with the experience garnered from Eclipse's decade long development of Time Domain speakers and amplifiers. Music enthusiasts, can enjoy the musical expression of the finest recording artists and the warmth of live music, with no need for an in-depth knowledge of technology.
A cut above - it's not cheap - it is better
Most AirPlay Systems and Desktop Speakers are built down to a prices as 'consumer audio' The TD-M1 is a very different beast, designed from the ground-up as serious high-resolution Hi-Fi.
Whatever the source, the TD-M1s deliver music with speed, immediacy, imaging and accuracy unheard of in desktop or wireless systems like this.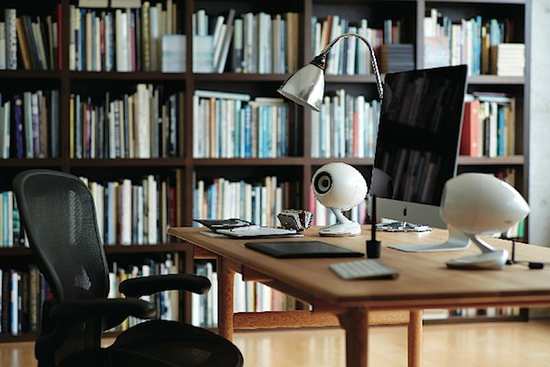 High-Resolution in & out
Very few speakers have the resolution to take advantage of the new high-res 24/192 and 24/96 music formats. The TD-M1 does, sharing the famous clarity and transparency of the whole Eclipse Time Domain range. "Better In" really does equal "Better Out"
The sleek aesthetics are not accidental
Nothing looks like an Eclipse and nothing sounds like an Eclipse, every element of the design is functional, a direct result of the requirements of Time-Domain anti-resonant construction.
- High-Performance Time-Domain Airplay Speaker System
- High-Resolution Active Desktop Speaker System
- Direct Connect Airplay from iPhone/Pad/Mac for use without a local Wi-Fi network
- USB-A for direct audio connection from & charging for iPhone/Pod/Pad
- USB-B asynchronous input for up to 24/192 sources from Mac / PC
- NOS 24/192 DAC and advanced Class D digital amplification
- Invisible Touch Controls or right-hand speaker base
- UPnP network streaming
- Comprehensive connectivity
The System
The TD-M1 is the ultimate desktop music monitor for enthusiasts and creatives, using 24/192 signals from computer via USB. It is the world's best AirPlay Hi-Fi system and can deliver amazing stereo sound from any modern TV, Blu-ray etc.
- two speakers with integrated amplification & electronics in the right-hand speaker base
- AirPlay & AirPlay Direct compatible for all Apple devices
- full UPnP Wi-Fi streaming with network compatible standards for everything else
- 24/192 USB-B inputs for desktop computer use
- USB-A Direct for iPhone / Pad etc
- external input (3.5 mm stereo mini jack) for TVs and other devices
- invisible Touch Controls or right-hand speaker plinth
The Electronics
The digital electronics are built into the base of the right speaker and comprise a 192kHz/24 bit USB interface, an ultra-low distortion non-oversampling DA converter (NOS-DAC), for clearer sound and a small form factor, ultra-high-efficiency Class D digital amp. An advanced circuit design, focused on temporal waveform accuracy, is used for the circuits around the amp IC.
- ultra-low distortion 24/192 non-oversampling DA converter (NOS-DAC)
- ultra-high-efficiency Class D digital amp
- advanced circuit design, focused on temporal waveform accuracy
- smart operation with touch sensor controls and LED indicator
- inbuilt wireless router for direct Airplay connections with web interface
- Direct Connect Airplay from iPhone/Pad/Mac for use without a local Wi-Fi network
- MIMO (Multiple in/out) Diversity Antennae for excellent reception
- one-touch speaker angle adjustment
- free iPhone/Pad App 'Eclipse TD Remote' for remote control of inputs and volume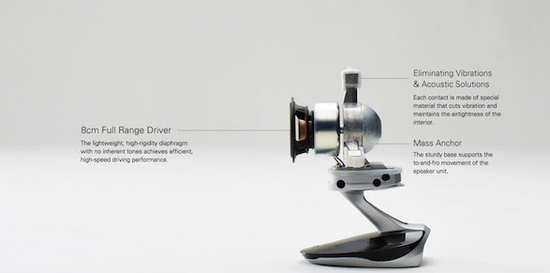 The Speaker
- highly engineered Ultra-Fast 8cm single driver design
- massive magnet structure for an astonishing transient response
- no crossover to smear the sound
- no DSP Processing to destroy phase and timing
- non-resonant composite egg cabinet
- cabinet effects effectively eliminated for superb clarity
- cabinet design effectively eliminates diffraction effects
- high-density zinc internal components with heavy mass anchor
- alloy stand carries the energy earth path
- one-touch vertical angle adjustment
The Sound
- absolute transparency, purity and clarity
- a remarkable sense of scale
- accurate transients to capture the leading edge of notes
- the most accurate reproduction of human voice
- probably the world's finest stereo imaging
Egg-shaped for a reason
To varying degrees the sound from most loudspeakers is coloured by the flapping panels and resonance of a box shaped wooden or plastic cabinet. The egg-shaped mineral-loaded resin cabinet of the TD-M1, provides the most rigid form known to nature and the internal construction and design inhibits resonances. All unnecessary energy is earthed through the internal zinc-alloy structure to stand.
Single Driver
The use of the single driver, avoids the time and phase distortion associated crossover circuitry and multiple drive units. A highly advanced single full-range drive unit is employed in order to maximise time, phase and impulse characteristics.
http://www.eclipse-td.net/products/TD-M1