The Witcher : Enhanced Edition - Platinum
The best PC role-playing game in years just got even better...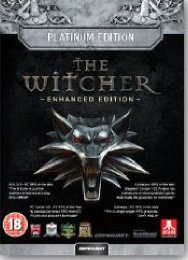 Certificate / Rating:
18
Retail Price:
£19.99
Release Date:
04/06/2010
Genre: RPG
Perspective:
Resolution:

Related Websites:
http://witcher.wikia.com/wiki/Witcher_Wiki

Platforms:
PC

Publishers:
Atari

Studios:
CD Projekt

Description:
The Witcher has won critical acclaim with more than 90 awards and has sold more than 800,000 copies worldwide. The Witcher: Enhanced Edition - Director's Cut is the definitive edition thanks to feature and content enhancements but also major technical improvements, all delivered in a premium high quality retail box.

A major portion of the English and German dialogue has been retranslated and rerecorded to match the original language version of the title with more than 5000 lines of re-written and re-recorded dialogue. The character gesturing system has been reworked and more than 200 new dialogue animations have been added to add more believability to the story telling. With new character differentiation system for NPCs, enhanced inventory with improved alchemy, reduced loading times, and 10 fully localised languages, alongside premium packaging loaded with high value content, The Witcher: Enhanced Edition - Director's Cut is set to thrill even more RPG fans!