The Crew Ultimate Edition
Your car is your avatar...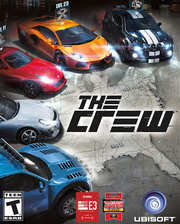 Certificate / Rating:
12
Retail Price:
£39.99
Release Date:
19/12/2014
Genre: Racing
Perspective:
Resolution:

Related Websites:
https://www.ubisoft.com/en-us/game/the-crew/

Platforms:
PC
PS4
Xbox One

Publishers:
Ubisoft

Studios:
Ivory Tower

Description:
Explore the first realistic recreation of the entire USA ever built for a driving game in The Crew Ultimate Edition, an all-inclusive edition of the revolutionary action-driving game released in 2014.

Includes:
- The Crew®
- The Crew® Wild Run expansion
- The Crew® Calling All Units expansion
- Season Pass

Roam 5,000 km of open world freedom celebrating speed and car culture, get behind the wheel of your dream vehicle and never stop challenging yourself and your friends.


Roam the Ultimate Driving Playground:The entire United States is your driving playground-downtown city streets, suburbs, hillsides, cornfields, canyons, sand dunes and racetracks
Tune your vehicles to master every terrain:Fill your garage with powerful cars, agile motorcycles, unstoppable monster trucks, evasive drift cars, roaring dragsters and exclusive police vehicles
Be spontaneous:Turn on-road encounters into intense rivalries or bond with friends, creating instant challenges with fellow drivers
Choose your side between the street and the badge:Fly solo or join a police squad to track down and chase Street Racers all over a huge, action-packed open world.
Recommended Specs:
OS: Windows 8/8.1 (64bit)
Processor: Intel Core2Quad Q9300 @ 2.5 GHz or better AMD Phenom II X4 945 @ 3 GHz or better
Memory: 8 GB RAM
Graphics: NVIDIA GeForce GTX580 or AMD Radeon HD6950 (1024MB VRAM with Shader Model 5.0 or higher)
Network: Broadband Internet connection
Storage: 30 GB available space
Sound Card: DirectX-compatible
Additional Notes: Peripherals Supported: Windows-compatible keyboard, mouse, racing wheel, headset, optional controller (Xbox One Controller or Xbox 360 Controller for Windows recommended) Multiplayer: 1024 kbps or faster broadband connection *Supported Video Cards at Time of Release: AMD Radeon™ HD 4870 / 5000 / 6000 / 7000 / R7 / R9 series, NVIDIA® GeForce® GTX 260 / 400 / 500 / 600 / 700 / TITAN series