New MAGIX Audio Cleaning Lab MX
Professional Audio Editing and Sound Restoration Made Easy!
MAGIX has announced the release of Audio Cleaning Lab MX.
MAGIX Audio Cleaning Lab MX
 is the perfect award-winning audio toolbox for music recordings, sound restoration and burning based on the most current mastering tools from MAGIX. Easily eliminate noises such as hissing and popping from your old treasures on LPs, cassettes or tapes and digital audio files without any prior knowledge and transfer perfectly mastered music to CDs, DVDs or MP3 players.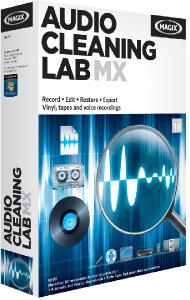 The useful overview track, professional effects and intuitive design ensure easy operation and a quick way to perfect digital sound. Noisy sections can be marked in the Spectral View and edited separately if the presets are not adequate. With real stereo editing and an advanced colour palette for improved visualisation, working with Direct Spectral Cleaning is now easier than ever. Equipped with the new MX philosophy, recordings can be exported directly to other MAGIX programs such as MAGIX MP3 deluxe or MAGIX Movie Edit Pro deluxe MX for further use. 
Features:
NEW! More than 60 new presets - The ideal solution for automatic sound optimization.
NEW! Turbo Tapes - Cassette recordings with High Speed Dubbing easily record and restore.
NEW! Master reverb Effect - You can now apply the reverb or echo effect on the complete track.
IMPROVED! Auto Cleaning wizard - Now even easier and more goal-orientated.
IMPROVED! Step-by-Step wizards - For perfect Sound Cleaning and Mastering.
IMPROVED! Direct Spectral Cleaning - With real stereo and optimized visualization.
Price & Availability:
MAGIX Audio Cleaning Lab MX is available now for SRP £39.99 inc VAT from Amazon, PC World and Currys and other stockists of high quality software.