Wings!
Remastered edition...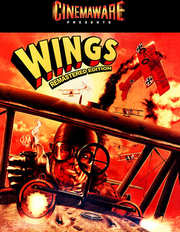 Certificate / Rating: Retail Price:
£12.99
Release Date:
17/10/2014
Genre: Action
Perspective:
Resolution: 1920*1080

Platforms:
PC

Publishers:
Cinemaware

Studios:
Cinemaware

Description:
Return to the pilot seat of an Allied fighter and bring the past glories of the Amiga into the present day, as Cinemaware's Wings! Remastered Edition is out today for PC via digital download.

Reimagined in rich HD with the original soundtrack re-recorded in full instrumentation, Wings! Remastered Edition throws you back into the arcade-action of the Amiga classic 'Wings!'.

So get your act together, take to the skies and give the enemy hell before Colonel Farrah has you court-martialled for negligence.