Assassin's Creed: Freedom Cry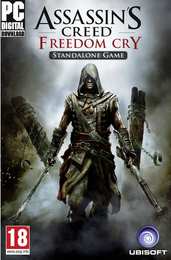 Certificate / Rating:
18
Retail Price:
£11.99
Release Date:
25/02/2014
Genre:
Perspective: 3rd Person
Resolution: 1920*1080

Platforms:
PC
PS3
PS4
Xbox One

Publishers:
Ubisoft

Studios:
Ubisoft

Description:
Rise up against slavery with the latest single-player action-adventure game in the Assassin's Creed® franchise.

Born a slave, Adewale was sold to a plantation owner at a young age. When pirates raided the plantation, Adewale escaped and found freedom as a pirate aboard the Jackdaw, where he became famed pirate Edward Kenway's confidant and second-in-command.

Now Adewale has become a trained Assassin and an illustrious member of the Brotherhood.