Titanfall
Believe The Hype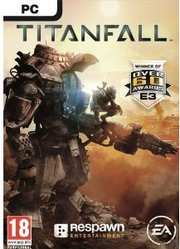 Certificate / Rating:
16
Retail Price:
33.85
Release Date:
14/03/2014
Genre: FPS
Perspective: 3rd Person
Resolution: 1920x1080

Related Websites:
www.titanfall.com

Platforms:
PC
Xbox 360
Xbox One

Publishers:
Electronic Arts

Studios:
Respawn Entertainment

Description:
Crafted by one of the co-creators of Call of Duty and other key developers behind the Call of Duty franchise, Titanfall is an all-new universe juxtaposing small vs. giant, natural vs. industrial and man vs. machine. The visionaries at Respawn have drawn inspiration from their proven experiences in first-person action and with Titanfall are focused on bringing something exciting the next generation of multiplayer gaming.

RECORD SETTING 6 GAME CRITIC AWARD WINS!


BEST OF SHOW
BEST ORIGINAL GAME
BEST CONSOLE GAME
BEST PC GAME
BEST ACTION GAME
BEST ONLINE MULTIPLAYER