HannsG announces its new affordable HL9 LED monitor series
HannsG is launching a new series of affordable LED monitors. The HL9 series combines energy efficient performance with super sleek design, and has a comprehensive selection of display sizes and specifications designed to serve a variety of applications, from demanding to modest.
The HL9 series will initially include widescreen models between 18.5" and 24". Each HL9 monitor boasts a high quality minimalist look with a slim profile that is complimented by a glossy black finish. The design incorporates built in speakers as standard, and includes DVI with HDCP support on all models (excluding the HL190APB) along with the more traditional VGA port for versatile connectivity to both modern and retro equipment, whilst tilt functionality and wall mount ability provides a practical flexibility.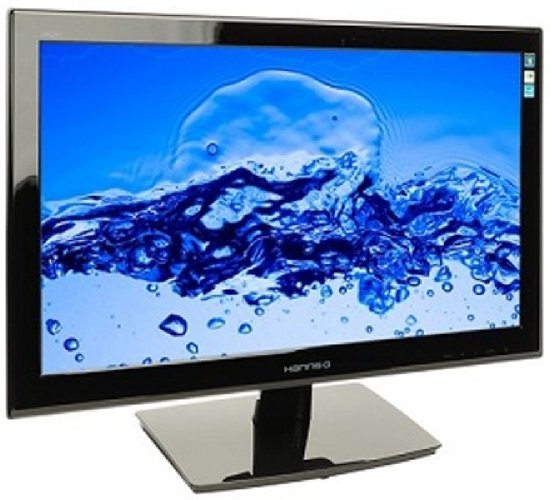 Whether you want to work hard or play hard the HL9 series delivers a stunning visual experience. To enjoy HD content in its true entirety, a Full High Definition resolution is available on larger size HL9 models. For absolute image clarity, the HL9 series features: HannsG's X-Contrast technology with up to 30,000,000:1 dynamic contrast ratio; and a typical 5ms response time delivering smooth, blur-free image transitions. For the most comfortable viewing experience from almost any position and the greatest field of vision, HannsG's HL9 monitors have a super wide viewing angle.
Go green! Thanks to the latest LED backlight technology, the HL9 series offers long-life high energy efficient performance which has been awarded an Energy Star Rating of 5.0. LED technology also means less hazardous and poisonous materials making the HL9 monitors more recycling friendly.
If you are concerned with the impact your technology has on the environment but you still want a great looking monitor that performs, the HL9 series ticks all the boxes. Prices start from just £69.00 inc. VAT. The entire range will be available from February from Misco.co.uk and more. Every HannsG monitor is supplied as standard with a 3 yr manufacturers' warranty.
Main Features
HL249DPB
Display Size: 23.6" Widescreen
Brightness: 250cd/m2
Contrast Ratio (typ.): 1000:1
X-Contrast (dyn.) 30000000:1
Resolution: 1920 x 1080 (Full HD 16:9)
Response Time: 5ms (typ.)
Display Colours: 16.7M
Viewing Angles: H/V 170°/160°
Inputs: VGA, DVI-D (HDCP)
Speakers: 2 x 1W
Dimensions (mm): 560 (w) x 405 (h) x 46 (d)
Tilt: -5°~15°
Power Saving: Energy Star 5.0
VESA Wall Mountable
£ 119.00 inc. VAT
HL229DPB
Display Size: 21.5" Widescreen
Brightness: 250cd/m2
Contrast Ratio (typ.): 1000:1
X-Contrast (dyn.) 30000000:1
Resolution: 1920 x 1080 (Full HD 16:9)
Response Time: 5ms (typ.)
Display Colours: 16.7M
Viewing Angles: H/V 170°/160°
Inputs: VGA, DVI-D (HDCP)
Speakers: 2 x 1W
Dimensions (mm): 513 (w) x 372 (h) x 48 (d)
Tilt: -5°~15°
Power Saving: Energy Star 5.0
VESA Wall Mountable
£89.00 inc. VAT
HL198DPB
Display Size: 19" Widescreen
Brightness: 250cd/m2
Contrast Ratio (typ.): 1000:1
X-Contrast (dyn.) 15000000:1
Resolution: 1440 x 900 (16:10)
Response Time: 5ms (typ.)
Display Colours: 16.7M
Viewing Angles: H/V 170°/160°
Inputs: VGA, DVI-D (HDCP)
Speakers: 2 x 1W
Dimensions (mm): 513 (w) x 372 (h) x 48 (d)
Tilt: -5°~15°
Power Saving: Energy Star 5.0
VESA Wall Mountable
£84.00 inc. VAT
HL190APB
Display Size: 18.5" Widescreen
Brightness: 200cd/m2
Contrast Ratio (typ.): 700:1
X-Contrast (dyn.) 30000000:1
Resolution: 1366 x 768 (16:9)
Response Time: 5ms (typ.)
Display Colours: 16.7M
Viewing Angles: H/V 160°/160°
Inputs: VGA
Speakers: 2 x 1W
Dimensions (mm): 442 (w) x 272 (h) x 42 (d)
Tilt: -5°~15°
Power Saving: Energy Star 5.0
VESA Wall Mountable
£69.00 inc. VAT