Monsters, Inc. Collector´s Edition (2 Discs) (UK)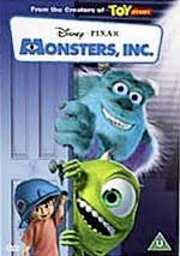 You Won`t Believe Your Eye
Certificate: U
Running Time: 88 mins
Retail Price: £24.99
Release Date:
Content Type: Movie
Synopsis:
Set in Monstropolis, a thriving town where monsters of all shapes and sizes reside, the film follows the hilarious adventures of James P. Sullivan (known to all as `Sulley`) an eight foot tall blue monster with purple spots, and his best friend, roommate, and co-worker, Mike Wazowski, a one-eyed lime green monster.

The main source of power in Monstropolis is the collected screams of human children. Monsters Incorporated is the largest scream processing factory in the monster world where both Sulley and Mike work. Sulley is the top kid `Scarer` and Mike is his enthusiastic `Scare Assistant`.

Complicating matters is the fact that monsters believe human children to be toxic and direct contact with them is forbidden. But when a little girl named Boo accidentally follows Sulley back into the monster world, he finds his career in jeopardy and his life in utter chaos. Assisted by Mike, he schemes to rectify his mistake but the trio become caught up in a series of complications beyond their wildest dreams.
Special Features:
Collector`s Edition DVD - Disc 1

Bonus Feature
Finding Nemo Preview - A sneak peak at the upcoming Disney/Pixar film, Finding Nemo
Audio Commentary - Commentary by Director Pete Docter, Co-Director Lee Unkrich, Executive Producer John Lasseter and Executive Producer/Screenwriter Andrew Stanton
Sound Effects Only Mix - Watch the film with only the sound effects

Collector`s Edition DVD - Disc 2

Bonus Feature
For the Birds - Academy Award winning short that player before the Monsters feature in cinemas. Play this with or without audio commentary
Mike`s New Car - All new short created just for this DVD/video release featuring Mike & Sulley. Play this feature with or without audio commentary
Outtakes - Hilarious outtakes and company play that played over the end credits in cinemas

MONSTER WORLD MENUS
New Monster Adventures
Mike`s New Car - See above
Monster TV Treats - Several interstitials that were newly animated for TV airing, starring Mike, Sulley and several other Monster favourites
Ponkickies 21 - All new animation created for a Japanese television show. Choose between the Lucky Door Game or Rock, Paper, Scissors
Disney Storytime - Welcome to Monstropolis: In the tradition of our storytime features, Roz introduces you to Mike and Sulley and their jobs at Monsters Inc
If I Didn`t Have You Music Video - One minute music video of the Academy Award winning song

Behind the Screams
Outtakes - See above
Company Play Program - Pixar created this program for the company play. It includes the cast bios, photos and advertisements
On the job with Mike & Sulley - Mike and Sulley talk about what it takes to be a top scarer in this "interview"

Monsters, Inc. Orientation
Welcome to Monsters, Inc. - A brief introduction to Monsters Inc
Your first day - An orientation for the new employee at Monsters, Inc.
History of the Monster World - A look at how the Monster World came into existence
Employee Handbook - Still frame handbook for new Monsters, Inc. employees. It contains Employee ID cards, Hazard ID symbols, Repetitive Scare Injury, CDA, safety check, MI cafeteria, door station guide, top 10 ways to get fired, sample scare report, advertising
Monster of the month - See the awards wall as it appeared in the film
Scare Cards - All new baseball style cards featuring biographical stats on each of your favourite monsters. Play this feature with or without accompanying audio commentary

HUMAN WORLD MENUS
Pixar
Pixar`s Fun Factory - John Lasseter takes you on a tour of the new Pixar Animation Studios
Pixar Air Show - Easter Egg. Paper airplane contest held with all Pixar staff in the Atrium of their new offices

Story
Story is King - Featurette about why the story is so important to making a good film
Monsters are real - Featurette about why monsters are real
Original treatment - The original story treatment put to video and narrated by Pete Docter
Deleted scenes - Introduction: Intro to deleted scenes by co-director Lee Unkrich- Assistant Sulley, Bad Scare, End of Day, Scream Refinery: Four deleted scenes from the featurette
Original opening - The opening sequence to the feature as it was originally animated
Storyboard to film comparison - A look at the storyboards for a scene compared with the final animation we saw in the film

Monster Files
Cast of characters - A look at the main characters in the film and the actors who played them
What makes a great monster - Featurette about what it takes to be a great monster
Character designs - Art gallery including still frames and 3D video turnarounds of the following characters; Sulley, Mike, Boo, Waternoose, Randall, Rivera, Celia, Roz, Fungus, Jerry, Pauley, Smitty, Needleman, Sanderson, Claws, Bile, Harley, Bud, Bob, Ricky, CDA and the Monster wannabees

Designing Monstropolis
Monstropolis - Featuerette about Monstropolis and the making of
Setting the scene - Set dressing: Featurette on how the sets are built for an animated film- Step through the progression: Static gallery of the sets being built. See the image stripped down, then through each progressive step until the scene is complete
Colour scripts - Gallery of the colour scripts used in colouring the film
Master lighting - Gallery of scenes and how they are lit. See the original drawings then compare then to the final lit scene
Location flyarounds - 360 degree fly throughs of the following locations; Downtown, the apartment, Monsters, Inc. stimulator, Boo`s Room
Monstropolis art gallery - Static art gallery of early concepts etc. of
Guide to "In" Jokes - A look at some of the "in" jokes that the Pixar filmmakers included in this film. Includes things like Boo playing with a Jesse doll and the ball from Luxor Jr. Animation
Animation process - Featurette about the whole animation process
Early tests - Early animation tests of some of your favourite characters with audio commentary by Thomas Porter, Steve May and Michael Fong - the animators
Opening title animation - Animation of the opening title
Hard parts - Featurette about the elements of this film that were new and unique and hard; animating fur and cloth
Shots department - Featurette about how different angles and layouts were used to shoot the final film.
Production demonstration - A look at various stages of a production. This section includes an introduction as well as the segment in four stages which you can toggle back and forth through; storyreel, layout, animation, final colour
Monster Song - Behind the scenes look at the recording of the Academy Award winning song, `If I Didn`t Have You`. Features Billy Crystal, John Goodman, the filmmakers and more
Sound design - Featurette on the music and sound behind Monsters, Inc. featuring Gary Rydstrom
Biaural Recording - A look and listen at the Binaural Recording method. See the difference between Binaural, Stereo,5.1 audio

Documentary wrap up
Easter Eggs - 7 easter eggs are hidden on this menu that appears after you have watched the Tour. They include: Introduction to the Atrium Designs and the design gallery, Big Scary Sulley, Boo, Bowling Boo, C.D.A. Mishap

Release
US Premiere - Clips from the US Premiere
Trailers and TV Spots - 2 trailers and 4 TV spots from the US release
International inserts - What goes into making an International friendly film
Toys - Video segment on the toys that were created for this film
Poster Gallery - Still frame gallery of posters that were created for this film, both domestically and internationally
Multi-language clip reel - A reel which seamlessly switches from one language to the next, demonstrating how the film is seen around the world.

Video Tracks:
Widescreen Anamorphic 1.85:1

Audio Tracks:
DTS 5.1 English
Dolby Digital EX 5.1 English

Directed By:
Lee Unkrich
Peter Docter
David Silverman

Written By:
Jonathan Roberts
Jeff Pidgeon
Ralph Eggleston
Jill Culton
Andrew Stanton
Rhett Reese
Dan Gerson
Peter Docter
Robert L. Baird

Starring:
Frank Oz
John Ratzenberger
Bob Peterson
James Coburn
Mary Gibbs
John Goodman
Jennifer Tilly
Steve Buscemi
Billy Crystal

Casting By:
Ruth Lambert
Mary Hidalgo
Matthew Jon Beck

Soundtrack By:
Randy Newman

Editor:
James Austin Stewart

Production Designer:
Bob Pauley
Harley Jessup

Producer:
Kori Rae
Darla K. Anderson

Executive Producer:
Andrew Stanton
John Lasseter

Distributor:
Disney Pictures