Finding Nemo (UK)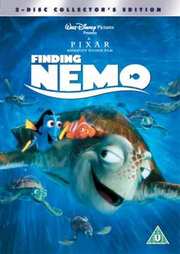 There are 3.7 trillion fish in the ocean, they`re looking for one
Certificate: U
Running Time: 96 mins
Retail Price: £21.99
Release Date:
Content Type: Movie
Synopsis:
From the Academy-Award-winning creators of Toy Story and Monsters, Inc. It`s Finding Nemo, a hilarious adventure where you`ll meet colorful characters that take you into the breathtaking underwater world of Australia`s Great Barrier Reef. Nemo, an adventurous young clownfish, is unexpectedly taken to a dentist`s office aquarium. It`s up to Marlin (Albert Brooks), his worrisome father, and Dory (Ellen DeGeneres), a friendly but forgetful regal blue tang fish, to make the epic journey to bring Nemo home. Their adventure brings them face-to-face with vegetarian sharks, surfer dude turtles, hypnotic jellyfish, hungry seagulls, and more. Marlin discovers a bravery he never knew, but will he be able to find his son? Finding Nemo`s breakthrough computer animation takes you into a whole new world with this undersea adventure about family, courage, and challenges.
Special Features:
Disc One: Widescreen version. Turn your TV into a virtual aquarium with animated scenes from the movie. Filmmakers` commentary including deleted scenes and recording sessions. `Making Nemo` documentary. Review The Art Of Nemo (narrated by the artists themselves).
Disc Two: Full frame version. Exploring The Reef With Jean-Michel Cousteau. Turn your TV into a virtual aquarium including never-before-seen animation. The Pixar short film `Knick Knack`. Sneak peek at Pixar`s The Incredibles. School Of Fish. Mr. Ray`s Encyclopedia. Behind-the-scenes tour of Pixar. Storytime Fun. Play `Fisharades`.

Video Tracks:
Widescreen Anamorphic 1.78:1

Audio Tracks:
Dolby Digital 5.1 English

Directed By:
Andrew Stanton
Lee Unkrich

Written By:
Andrew Stanton
Bob Peterson
David Reynolds

Starring:
Albert Brooks
Ellen DeGeneres
Alexander Gould
Willem Dafoe
Brad Garrett

Casting By:
Matthew Jon Beck
Mary Hidalgo
Kevin Reher

Soundtrack By:
Thomas Newman
Albert Lasry
Jack Lawrence
Charles Trenet

Director of Photography:
Sharon Calahan
Jeremy Lasky

Editor:
David Ian Salter

Production Designer:
Ralph Eggleston

Producer:
Jinko Gotoh
Graham Walters

Executive Producer:
John Lasseter

Distributor:
Disney Pictures