Har harr me hearties! Wreckers at Dead Eye: Complete Series on DVD this February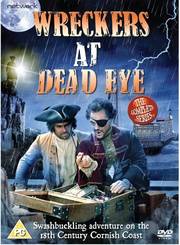 Whenever a school holiday hits us, the first things parents do is rush around looking for something to entertain the little sprites. Well too late for this one, but a bit of planning might make it worth a go for the next, is
Network Distributing's
children's adventure drama
Wreckers at Dead Eye
.
This 70s TV mini-series turns up on 25th February and stars Jack Allen, Claire Benjamin and Johnny Briggs.
With a total runtime of 150 minutes, this comes in its original full frame aspect ratio, and carries a recommended retail price of £14.99.
Synopsis follows...
On a dark, stormy night in 1770, a ship crashes on the treacherous rocks of Dead Eye. It has been lured to its doom by the deceiving light of the Wreckers of Thriabbas, who make a living from the loot of 'organised' disaster.
But this time, there is a survivor, a young Persian girl who has witnessed the Wreckers' crime, and must be silenced. Only a handful of villagers, led by a retired sea captain, dare to stand against the gang; they must try to reach the girl first, and put an end to the Wreckers' evil practice…