Monsters University scares its way to 3D Blu-ray and DVD this November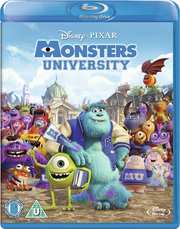 Here's one for the whole family to enjoy at Christmas,
Disney
and
Pixar
have announced the 11th November release of
Monsters University
on both 3D Blu-ray, normal Blu-ray, digital download and DVD.
Directed by Dan Scanlon and produced by Kori Rae, this features the voices of Billy Crystal, John Goodman, Steve Buscemi, Helen Mirren and Alfred Molina.
Extras will include a
Campus Life
behind the scenes featurette,
Paths to Pixar
featurette,
Colour and Light
featurette,
Welcome to MU
featurette,
Story School
featurette and
Furry Monsters: A Technical Retrospective
featurette.
Expect street prices of around £11 for the DVD, £16 for the Blu-ray, and £21 for the 3D Blu-ray. The movie will also be available for digital download a week earlier on the 4th.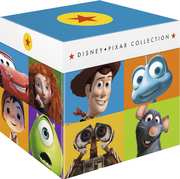 Incidentally, a
Pixar Collection
box set with all 14 movies and the complete bonus material from the individual releases will also be in shops for Christmas on both formats. In addition to the movies, it will also include
Cars Toons: Maters Tall Tales
and all of Pixar's short films. Expect street prices of around £75 for the DVD box and £105 for the Blu-ray.
Synopsis and trailer follow...
Ever since Mike Wazowski was a little monster, he has dreamed of becoming a Scarer, and he knows better than anyone that the best Scarers come from Monsters University. But during his first semester at MU, Mike's plans are derailed when he crosses paths with hotshot James P. Sullivan, aka Sulley, a natural-born Scarer.
The pair's out-of-control competitive spirit gets them both kicked out of the University's elite Scare Program. To make matters worse, they realise they will have to work together, along with an odd bunch of misfit monsters, if they ever hope to make things right. Monsters University bravely explores themes of self-discovery and the revelations that come with growing up.