Disney's Oz The Great and Powerful comes to DVD and Blu-ray in July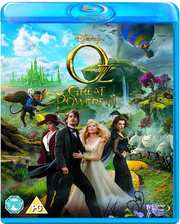 What do you get if you take a director such as Sam Raimi, a set of books by Frank L. Baum, and the idea of a prequel to one of the most famous films of all time?
Walt Disney UK
are giving us all a chance to find out, as
Oz The Great and Powerful
turns up this 1st July on DVD and Blu-ray.
With a cast that includes James Franco, Mila Kunis, Rachel Weisz, Michelle Williams, Joey King and Zach Braff, extras on both releases will include bloopers and the
Walt Disney and the Road to OZ
featurette.
In addition to that, the Blu-ray version adds the
My Journey In Oz By James Franco
featurette,
China Girl And The Suspension of Disbelief
featurette,
Before Your Very Eyes: From Kansas to Oz
featurette,
Mila's Metamorphosis
featurette and
Mr. Elfman's Musical Concoctions
interview.
Expect a recommended retail price of around £15.99 for the SD version and £18.99 for the HD release.
Synopsis and trailer follow...
When Oscar Diggs, a small-time circus magician with dubious ethics, is hurled away from dusty Kansas to the vibrant Land of Oz, he thinks he's hit the jackpot. Fame and fortune are his for the taking. That is until he meets three witches: Theodora, Evanora and Glinda, who are not convinced he is the great wizard everyone's been expecting.
Reluctantly drawn into the epic problems facing the Land of Oz and its inhabitants, Oscar must find out who is good and who is evil before it is too late. Putting his magical arts to use through illusion, ingenuity and even a bit of wizardry, Oscar transforms himself not only into a great wizard but into a better man as well.