The Man Who Finally Died espionage thriller comes to DVD in July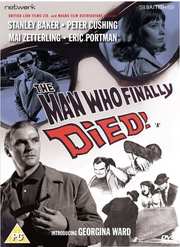 It's time to bring news of a golden oldie arriving on 1st July from
Network Distributing
, post WWII espionage thriller
The Man Who Finally Died
is turning up on on DVD as part of
The British Film Collection
.
Directed by Quentin Lawrence, this stars Stanley Baker, Peter Cushing and Mai Zetterling, this was shot in Cinemascope and is presented here in a brand-new transfer from the original film elements.
The runtime is 96 minutes and the recommended retail price will be £9.99.
Synopsis and clip follow...
In London, jazz musician Joe Newman receives a startling telephone call: the caller is his German father, believed to have died in action twenty years ago.
At the same time, a funeral is taking place in a quiet Bavarian town; the coffin bears the name of Kurt Deutsch, Joe's father. When he goes to Bavaria to investigate, Joe is sure that certain facts are being withheld.
But his search for the truth proves more disturbing than he could have imagined.