The Snowman and The Snowdog comes to Blu-ray and DVD in November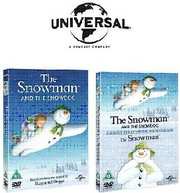 It must be hard to think of snow when it feels like finally we've got the summer we all wanted, but think of it we must! For
Universal Pictures UK
are releasing the sequel to a classic animated film on 11th November this year.
Written by original animators Hilary Audus and Joanna Harrison, and directed by Audus,
The Snowman and The Snowdog
arrives on both DVD and Blu-ray.
With a runtime of 23 minutes, and 46 minutes of bonus material, the recommended retail price will be £10.99 for the standard definition release and £15.99 for the HD version. The DVD will also be packaged with the original as a double box set for the RRP of £14.99.
Synopsis and trailer follow...
The film starts in the familiar home featured in The Snowman. When Billy, a young boy whose dog has recently died, moves into the house, he writes to Father Christmas asking for another playmate.
Little does he know what awaits him on the magical night he finds a photograph of the original snowman, or that his new companion, The Snowdog, will have adorable odd socks for ears and a satsuma for a nose.
Featuring a brand new soundtrack from former Razorlight drummer Andy Burrows, the official single Light the Night is played during the flying sequence to dramatic effect, whilst the film's traditional hand drawn technique helps it remain true to the original.