Laurent Cantet's teen drama Foxfire: Confessions of a Girl Gang arrives on DVD in November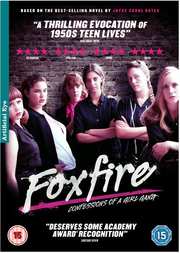 Let's kick off the week with a brand new English language feature from
Palme d'Or
winning director Laurent Cantet. Out on 11th November courtesy of
Artificial Eye
, is coming of age tale
Foxfire: Confessions of a Girl Gang
on DVD.
With a runtime of 144 minutes and a 15 certificate, this will include an interview with the director and theatrical trailer amongst its extras, whilst the recommended retail price will be £15.99.
Synopsis and trailer follow...
It's the late 1950s in up-state New York. A group of teenage girls, abused by men, mocked by teachers and subjugated by society, decide to seize destiny in their own hands and form a gang, Foxfire.
From small acts of rebellion and revenge the gang slowly moves on to more complex crimes, finally culminating in a shocking deed that will tear apart the lives of its members