Disney releases classic Cinderella: Diamond Edition on Blu-ray and DVD this August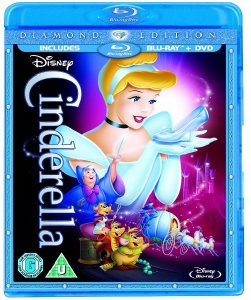 Those who have good memories will recall how crazy
Disney Home Entertainment
reacted to DVD as a format, giving limited time frame releases that their movies could be bought inside of, after which gone forever. Only they reneged eventually on that whole misguided step, probably after Eisner left, but we often do, we digress.
Out on 27th August is your chance to own one of their most loved films, this time in a new edition in high definition and DVD again too, the
Cinderella: Diamond Edition
.
Digitally remastered in 7.1 DTS-HD and with a 1.0 DTS-HD original mono mix on the Blu-ray, and 5.1 Dolby Digital on the SD version.
And now for some marketing blurb, which also contains more info on the contents...
The "Cinderella: Diamond Edition," with its spellbinding storyline, memorable music, unforgettable characters and spectacular animation, sparkles like never before with a wide-array of bonus features that extend the viewing experience for the whole family to enjoy.

For the first time ever, Walt Disney Studios will unveil an alternate opening sequence for Cinderella exclusively on the Disney Blu-ray release along with a special introduction from Diane Disney Miller, daughter to the legendary Walt Disney.

Tangled Ever After' an all new short featuring Rapunzel and Flynn from the most recent Disney Princess adventure will also feature on both the Blu-ray and the DVD, making it available to own for the first time ever.
"Cinderella" will join the company's prestigious line-up of Blu-ray Diamond Collection titles this Fall which is currently comprised of "Snow White and the Seven Dwarfs," "Beauty and the Beast," "Bambi," "Lady and the Tramp" and "The Lion King."