Toy Story trilogy comes to Blu-ray in 3D this November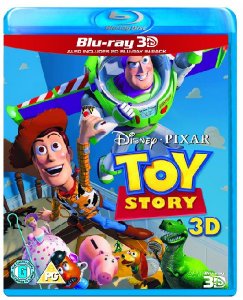 Experience the Toy Story trilogy beyond infinity as it arrives on
stunning Disney Digital 3D™ Blu-ray from 14th November 2011
Join Woody, Buzz and the gang in a whole new dimension as all three Toy Story films arrive for the first time on dazzling
Disney Digital 3D™ Blu-ray.
Enjoy all the fun and excitement in a brand new way as they jump off the screen and into your living room from 14th November 2011.
Toy Story
Disney*Pixar's groundbreaking
Toy Story
comes to life in an all-new 3D Blu-ray. Its pristine picture and theatre-quality sound launches you into all the fun and adventure with Woody, Buzz and all your favourite toys!
As six-year-old Andy's favourite toy, Woody (Tom Hanks) is confident in his role as room leader. But when Buzz Lightyear (Tim Allen) crash-lands into Woody's world as Andy's most important birthday present, a rivalry is created that lands the duo inside the home of Sid--the toy-torturing boy next door. As Woody and Buzz work together to escape, they realise they've got the perfect friend...in each other!
Voiced by a powerhouse comedic cast, and featuring Randy Newman's Academy Award® nominated music, Toy Story etched its name into motion picture history and earned director John Lasseter a Special Achievement Award®. Now you can own this Disney*Pixar classic on 3D Blu-ray Disc for the ultimate viewing experience.
Bonus Features
Toy Story 3 Sneak Peek "The Story"
Buzz Lightyear Mission Logs: Blast Off
3 Animated Studio Stories
Buzz talks Manhattan
Making Toy Story
Film makers Reflect
Deleted scenes & Design galleries
Toy Story 2
Now you can re-live Disney*Pixar's
Toy Story 2
for the first time on 3D Blu-ray for the ultimate home entertainment experience.
While Andy is away at summer camp, Woody is toynapped by Al, a greedy collector who needs Andy's favorite toy to complete his Roundup Gang collection. Together with Jessie, Bullseye and the Prospector, Woody is on his way to a museum where he'll spend the rest of his life behind glass. It's up to Buzz, Mr. Potato Head, Hamm, Rex and Slinky Dog to rescue their friend and remind him what being a toy is all about.
Bursting with the ultimate 3D Blu-ray experience this hilarious comedy classic raises the bar on family entertainment to infinity and beyond.
Bonus Features
Toy Story 3 Sneak Peek "The Characters"
Buzz Light-year Mission Logs : International Space Station
3 Animated Studio Stories
Pixar's Zoetrope
Making Toy Story 2
Toy Box: Outtakes & Alternate Scenes
Deleted Scenes & Design Galleries
Toy Story 3
The creative minds behind Disney*Pixar's groundbreaking animated blockbusters invite you back inside the toy box for a heartwarming and hilarious 3D Blu-ray™ movie experience you'll never forget.
In Toy Story 3
, Woody (voiced by Tom Hanks), Buzz Lightyear (voiced by Tim Allen) and the rest of the Toy Story gang, return for an all-new adventure, along with a few new faces--some plastic, some plush--including Barbie's counterpart Ken (voiced by Michael Keaton), a thespian hedgehog named Mr. Pricklepants (voiced by Timothy Dalton) and a strawberry-scented bear named Lots-O'-Huggin' Bear (voiced by Ned Beatty).
As Andy prepares to depart for college, Woody, Buzz, Jessie and the rest of Andy's faithful toys wonder what will become of them. But, when a mix-up lands them at Sunnyside Daycare, they meet a host of new toys and soon discover a wild new adventure is just beginning! Take an amazing journey with some of the most beloved characters in movie history and discover what being a friend is truly all about.
Experience the laughter and friendship like never before in amazing 3D over and over again!
Bonus Features
Toy Story Trivia Dash
Cine-Explore
Beginnings: Setting a Story in Motion
Bonnies Playtime
Roundin' Up a western Opening
Beyond the Toy Box: An alternative Commentary Track
Paths to Pixar: Editorial