Sherlock: Complete Series 3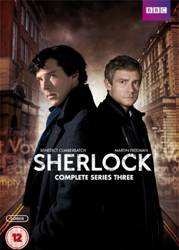 Certificate: 12
Running Time: 261 Mins
Retail Price:
Release Date: 20/01/2014
Content Type: TV Series
Synopsis:
Two years after the devastating events of The Reichenbach Fall, Dr John Watson (Martin Freeman) has got on with his life.

New horizons and romance beckon in the shape of the beautiful and smart Mary Morstan (Amanda Abbington). But Sherlock Holmes (Benedict Cumberbatch) is about to rise from the grave. And even though it's what his best friend wanted more than anything, for John Watson it might well be a case of 'be careful what you wish for!'

In three brand new adventures, Sherlock and John face baffling mystery beneath the streets of London – a wedding that's not quite what it seems and the arrival of the repellent and terrifying blackmailer Charles Augustus Magnussen.

Who is the mysterious disappearing man? How can a Royal Guardsman bleed to death in a locked room? And what is the secret that threatens to blow apart everything the reunited friends hold dear?

Sherlock is back, but will things ever be the same again?
Special Features:
· Fans, Villains & Speculation
· Shooting Sherlock
· The Fall

Related Websites:
http://www.bbcshop.com/drama+arts/sherlock-series-3-dvd/invt/bbcdvd3816

Written By:
Mark Gatiss, Steven Moffat

Starring:
Benedict Cumberbatch, Martin Feeeman, Mark Gatiss, Amanda Abbington.