Anime Review Roundup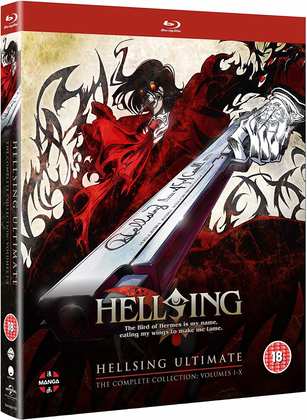 Just a couple of reviews this week, beginning with the complete Hellsing Ultimate. This has been a long, long time coming. The first four parts of the series were released here on DVD by Manga Entertainment in 2008. Then five years later, we got the next four parts, and this time on Blu-ray as well, which entailed subsequently re-releasing the first four parts on Blu-ray too. But there were two parts left to complete the series, and while the rest of the world got them in a timely fashion in 2014, distributor issues meant that it took Funimation actually buying Manga Entertainment outright for the series to be completed here. Eleven years after the first instalment came to the UK, we can see the show in its entirety, and yes, Manga have done that annoying thing of releasing the whole thing in one go, compelling people who had collected the first eight parts to buy them again. All that put to one side, this does mean that fans can finally find out if Britain's pet vampire Alucard can defeat those pesky Nazi vampires. Click on Stuart McLean's review of
Hellsing Ultimate: Volumes 1-10 Complete Collection
to see how it fares.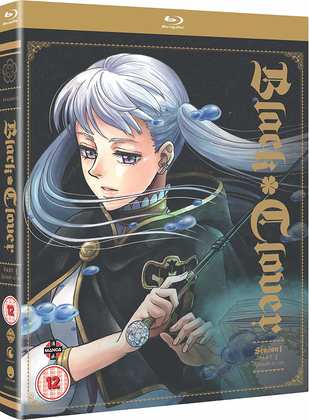 Next it was the turn of
Black Clover – Season 1 Part 3
. The latest long running shonen action show hits all the right notes if you are a fan of that genre. It may have the most annoying main character known to man, but the rest of the cast is appealing, the story unfolds at an agreeable pace, mixing just the right balance of clichés and originality to keep it interesting, and it does enough that is different to stand out from all its peers. I didn't think so at first, but Black Clover has quite rapidly become interesting. Click on the review to see if it's worth sticking with.
This Week I Have Been Mostly Rewatching...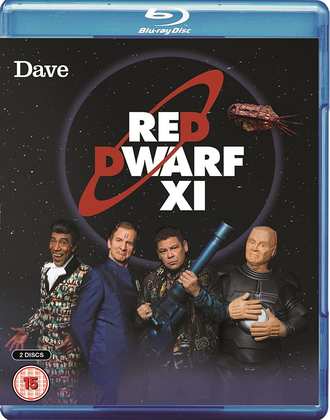 Red Dwarf. I'm taking a step away from anime this week, as I revisit my favourite sitcom once more. Here's something that'll make you feel old. Last of the Summer Wine ran from 1973 to 2010, 37 years. Red Dwarf started in 1988. It's been going on and off for 31 years, and it has kept the same main cast members. Just six more years, and if they keep making them it will be, chronologically speaking, the longest running sitcom ever, in the world, although they have a lot of catching up to do if they want to match Summer Wine's 31 seasons. Thankfully for Red Dwarf, they tend to make them when they have the scripts to make, rather than keeping it on air in the hope of maintaining an audience. There still aren't that many sci-fi sitcoms around, but Red Dwarf really owns that niche, delivering a much needed dose of humour to an otherwise pretty strait-laced genre.
Dave Lister is the last human in the universe, a vending machine technician, woken up from suspended animation on the mining ship Red Dwarf after his direct superior Arnold Rimmer failed to repair a reactor properly, wiping out the whole crew. He's alone in deep space, 3 million years from home, with a hologram of Rimmer, a ship's computer with dementia named Holly, and a creature evolved from the cat he snuck on board (which got him punished by Stasis), and from the second season, a sanitation droid they discover named Kryten. And heading back to Earth, they get into all kinds of adventures. To date there have been 79 episodes of Red Dwarf across 11 series, and the Back to Earth special, and given the broad possibilities of the sci-fi genre, there's a lot of variety here. Of course not all Red Dwarf is great, notably that Back to Earth trilogy, but there is a lot to enjoy here.
My revisit to the world of Red Dwarf was sparked by the release of the original eight series on Blu-ray, although I didn't watch them that way. I've seen some of the comparison shots, and I wasn't too impressed with how they had 'enhanced' shows that were originally shot on video at the BBC. The DVDs actually looked better to me in a couple of screengrabs. That coupled with a mastering error on two of the discs, prompting a disc replacement scheme, convinced me to watch the show again on DVD, originally released in the UK from 2002, and still available today if you look around and would rather not have the Blu-rays. The Blu-rays do have some of the extra features from the Bodysnatcher release, notably the Seasons 1 and 2 documentaries, but they don't have the CG remastered episodes from the Bodysnatcher DVD release, which is practically impossible to find. But since Dave started showing new series, and beginning with Back to Earth, the new shows have been available natively on Blu-ray, and having been shot for HD, they do look spectacularly better than the BBC produced series.
Here's my review for Red Dwarf: Season XI
, which is where I'm at in my re-watch. Reviews for the rest of the series can also be found on the site.
Manga Entertainment released both Hellsing Ultimate Parts 1-10 Complete Collection and Black Clover - Season One Part Three on Blu-ray and DVD on July 15th.