Anime Review Roundup
Big Changes Afoot at Studio Ghibli
The rumour mill has been buzzing for a few weeks now regarding the future of Studio Ghibli, now that the founders are taking more of a back seat role, or retiring completely from the film production side of things. As recent films haven't seen the level of success the studio once garnered, it seems that the writing was on the wall for Ghibli. Then yesterday an inaccurately translated report appeared that stated that the studio was closing down. Cue alarm bells and panic. Since then, the report has been clarified, and Ghibli isn't closing down... yet. It is however restructuring. It's one of the last studios in Japan that keeps all of its animation in-house, rather than out-sourcing all the routine work abroad as every other studio does. It costs a lot to hold onto a permanent staff as Ghibli has done, and that is the first thing that will change, with a significant down-sizing as they look forward to see how best to continue the company. But one of the options on the table is to close the production arm completely, and concentrate on maintaining the existing catalogue. Hopefully that is the unlikeliest option.
More
detail at the BBC
.
New Licenses and Release Dates From MVM
There's no expo on, no particular anime related jamboree taking place in this part of the world, but that didn't stop MVM lighting up Twitter and Facebook with their Q4 release schedule, and there probably is something or other that will lighten your wallet before year's end. To summarise...
Devil Survivor 2
animation will come out on DVD on 20th October.
The first
Bakemonogatari
series will move to DVD and BD collection on 27th October.
Blast of Tempest
Part 1 will come out on DVD on 17th November, with part 2 debuting on 8th December.
Samurai Champloo
gets a Blu-ray upgrade on 3rd November.
Usagi Drop
is out on the 10th November on DVD
Watamote
comes out on DVD and Blu-ray on 15th December
And finally, the second
Monogatari
series will be released in the UK on DVD and Blu-ray. Just like the US, and we assume the Australian releases, the series will be divided into the story arcs.
Nekomonogatari (White)
will be released on DVD and Blu on 24th November.
Kabukimonogatari
will arrive the following week on DVD and Blu, 1st December.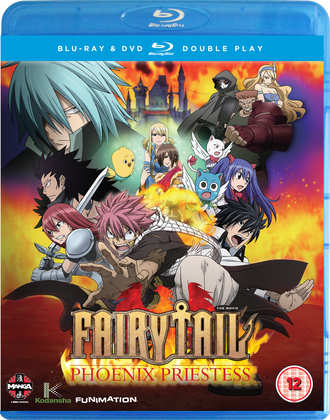 Two reviews for you this week, beginning with another movie adaptation of a long running television show. Last week it was the first three One Piece movies, this week it's the turn of the first, and to date only
Fairy Tail Movie: Phoenix Priestess
. The creators of Fairy Tail haven't been shy about letting things rest when they run out of material to adapt instead of churning out filler, and that care and commitment shows in the movie spin-off, which only came some 120 episodes in, and arrives as a perfectly formed, stand-alone story, rich with the characterisations, comedy, attention to detail, and heart that the series does so well. It's a lot of fun to watch as well.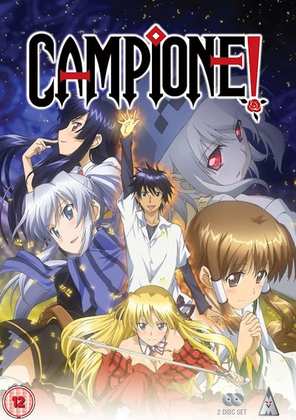 The fun kind of drained away with my final review of the week,
Campione! Complete Series
. There are shows that innovate and inspire, and they are few and far between. Then there are shows that walk a well worn path, hitting the pre-ordained beats in order to entertain the established mainstream audience with more of the same. Campione! does it so well, that you practically don't even need to watch it, to have watched it. Hapless hero gathers a harem of girls to do battle against rogue gods. It's a teensy bit naughty, it has the usual laughs, and it has enough in the way of technobabble, or rather mythnobabble in this case, crow-barred in, to keep the geekiest geeks in clover.
Manga Entertainment released the Fairy Tail Movie: Phoenix Priestess on DVD, and Blu-ray/DVD combo last Monday. MVM release Campione! Complete Series on DVD and Blu-ray today.