BBC Worldwide in January Part Three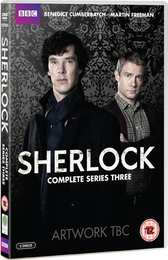 Following on from yesterday's look at what
BBC Worldwide
have coming our way next month, here is the third and final part.
Fans of Mark Gatiss and Steven Moffat's take on Arthur Conan Doyle's classic detective stories, will be thrilled to see the release of
Sherlock: Series 3
out on both DVD and Blu-ray this coming 20th January.
This stars Benedict Cumberbatch and Martin Freeman, and carries a recommended retail price of £20.42 for the standard definition version, and £25.52 for the high def release.
The question on everyone's lips is finally answered as Sherlock returns in three brand-new action-packed adventures. How did he do it? How will John take the news that his best friend faked his own death? Sherlock and John's double act is put to the test when John falls in love with Mary Morstan.
She's sensible, quick-witted and not at all taken in by Sherlock's posturing. With the demise of Moriarty, Sherlock finds himself locked in another mind battle with the powerful Charles Augustus Magnussen, who is holding the secrets of the world at his fingertips. Once again, the game is on for Sherlock and John in episodes The Empty Hearse, The Sign of Three and finally, His Last Vow.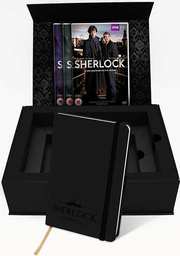 If you are a huge fan of this series, you can also get your hands on a
Sherlock: Limited Edition Fan Box Set
on the 27th January, priced at £75.56 for the DVD and £80.67 for the Blu-ray. This is apparently a
BBCShop.com
exclusive.
Limited to a run of only 3,000 individually numbered copies, this is a must-have product for those who love the show. The beautiful collector's edition box set is inspired by the hit drama and features secret compartments which hide all three Sherlock series.
Also concealed within the box is a copy of an episode script from the first series written by co-creator Steven Moffat, a special letter to fans from Mrs Watson and a stylish black soft touch A6 size Moleskin notebook to keep notes and observations on the new series.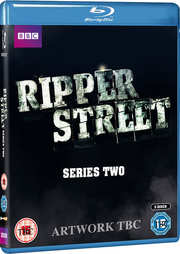 Joining the above on the 27th, is
Ripper Street: Series 2
, created by Richard Warlow and starring Matthew Macfadyen, Jerome Flynn and Adam Rothenberg. It carries a recommended retail price of £25.52 on DVD, and £35.73 on Blu-ray.
The job of preventing Whitechapel from descending into hell has never been harder for Inspector Reid and his loyal deputies Detective Bennet Drake and Captain Homer Jackson. As the century enters its final decade, society teeters on the brink of moral collapse and nowhere are the bloated British Empire's problems felt more keenly than in its dark heart: the East End of London.
The memory of Jack the Ripper may have faded, but the Whitechapel streets he walked are more dangerous than ever. The men of H-Division are pushed to their very limits, while they are undermined at every turn by the corrupt and amoral force in neighbouring K-Division, led by the formidable Jedediah Shine.
Meanwhile, Reid is also coming to terms with his own demons, finding a glimmer of happiness in the company of the progressive, charming Jane Cobden, the first woman elected to the London County Council. Drake is happily married to Bella, though the unrequited love of Rose still haunts him, and Jackson and Long Susan's tempestuous relationship boils over again as more secrets and lies threaten to overwhelm them.