Tolstoy classic Anna Karenina with Sean Connery and Claire Bloom hits DVD in September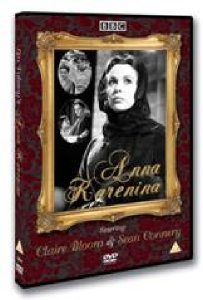 Anna Karenina
The BBC's triumphant 1961 adaptation of Leo Tolstoy's romantic masterpiece starring Sean Connery and Claire Bloom is yours to own on DVD 27th September 2010, courtesy of Simply Media.
When the beautiful young aristocrat Anna Karenina (Claire Bloom) meets the dashing Count Vronsky (Sean Connery) at a Moscow railway station, their first encounter is overshadowed by misfortune.
Trapped in a loveless, arranged marriage with the cold Alexei Karenina, Anna tries her best to resist the passionate advances of Vronsky. Eventually succumbing to his allure, Anna grows to be his mistress.
Her actions cause outrage in St Petersburg society and her husband not only refuses her the dignity of a divorce but also prevents her from seeing her beloved son - unless she agrees to leave Vronsky forever.
Shunned, heartbroken and trapped by the very love she'd always sought, Anna's actions become ever more desperate.
Anna Karenina is a classic revision adapted by Donald Bull and directed by Rudolph Cartier, who sweeps the film to a shocking conclusion. Made just a year before Sean Connery first starred as James Bond in
Dr No
,
Anna Karenina
is a timeless, classic BBC drama to treasure.
Release information:
Title: Anna Karenina
Genre: TV drama
RRP: 14.99
DP: 10:21
Cat. Number: 132330
Retail Barcode: 5019322323303
Release date: 27th September 2010
Duration: 105 Minutes
Cert: PG
Notes to Editor
Simply Media is one of the UK's leading digital video providers with in-house expertise across the entire value chain. Simply Media offers a full range of services in multichannel broadcasting, production and content creation, media and marketing services, distribution and TVOIP solutions.
Simply Media's Home Entertainment division is a creative original programming producer, teaming up with some of the most experienced and reputable directors in the business. Simply are uniquely positioned to license and distribute this content to both consumers and customers via its successful and well established catalogue and thriving multichannel trade DVD sales operation.
For more information on Simply Media go to
www.simplymedia.tv