Miley Cyrus in The Last Song hits DVD and Blu-ray this September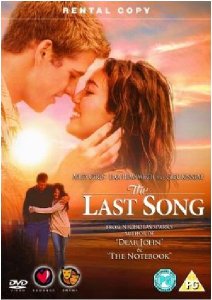 Miley Cyrus, Greg Kinnear and Liam Hemsworth star in Nicholas Sparks's latest tale of first love and second chances…
The Last Song
With Never-Before-Seen Alternative Opening
Coming to Disney Double Play (Blu-ray & DVD) on September 6th, 2010
This September join international sensation Miley Cyrus as she embarks on a southern summer journey through the uncharted territory of young love.
Exclusively for Disney Double Play viewers, Nicolas Sparks's (Dear John and The Notebook) latest adaptation
The Last Song
comes packed with bonus features including filmmaker commentary, deleted scenes, making of the Miley Cyrus music video 'When I look At You' and a never-before-seen alternative opening sequence.
Miley Cyrus (Hannah Montana: The Movie) confidently takes the lead as a coming of age heroine, starring alongside multi Oscar nominee Greg Kinnear (As Good As it Gets, Little Miss Sunshine, You've Got Mail) as her music loving on screen father. Heartthrob Liam Hemsworth steps up as Cyrus's boy wonder and the full cast is directed by Julie Ann Robinson (Greys Anatomy, Big Love).
What's a girl to do when she's forced to spend her summer away from friends with an estranged father in an isolated beach town? Fall head over heels in love with a brooding, oft-shirtless dreamboat that's what! If only it was that simple…
Will lasting resentment over her parent's divorce mean that the summer break isn't long enough for handsome local, Will Blakelee, to convince her to rekindle her relationship with her Dad, re-discover her talent for the piano, and realise how deep her feelings go for him?
When family secrets emerge, this story of first love and second chances will remind girls of all ages just how closely love and loss stand together.
Bonus features for The Last Song:
·
Set Tour with Bobby Coleman:
Audiences will have an all access pass to see how a film is made through the eyes of the new up-and comer and star of The Last Song, Bobby Coleman. This rambunctious eight-year old will bring his fans along as he does everything from interview Adam Shankman and Miley's security team, to going on a seashell scavenger hunt.
·
Making of the Music Video: When I Look At You with Miley Cyrus
- Go behind-the-scenes of the music video, When I Look At You. It will feature recording studio footage, b-roll from the set, interviews with Miley and the crew, clips from the film and music video. Audiences will learn how the film's motif, southern summer romance, is incorporated into feel and theme of the music video.
·
Miley Cyrus Music Video: When I Look At You
Blu-ray Exclusive
Alternative Opening Sequence: The Church Fire

(with optional commentary by director)

Deleted Scenes:

(with optional commentary by director)

Ronnie at the Piano
Steve & Ronnie At The Beach
Hospital Montage
Vegan Cookies
Juggling On The Pier
Audio Commentary:
with Director Julie Anne Robinson and Co-Producer Jennifer Gibgot