American series The Listener comes to DVD in September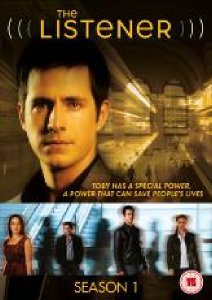 THE LISTENER
AVAILABLE ON DVD FROM 13TH SEPTEMBER 2010
Prepare to enter a world of shadowy thoughts and silent cries for help as
The Listener
comes to DVD from
13th September 2010
courtesy of Universal Pictures UK.
Toby Logan (Craig Olejnik,
Thirteen Ghosts
) is a young paramedic with a dark secret and a mysterious past. Brought up on foster homes and having never known his father or been close to his mother, Toby has long since learned to keep his own secret - that he can hear other people's thoughts - to himself. Now a paramedic in Toronto, Toby has since let his therapist (Colm Feore, TV's
24
) in on his secret and has gradually started to realise that helping those whose thoughts he can hear will also lead him down a path that could explain his own shady past.
Aided and abetted by his paramedic partner, Oz (Enis Esmer, TV's
The Cheetah Girls
) and his on/off girlfriend Detective Charlie Marks (Lisa Marcos, TV's
Kevin Hill
), Toby becomes embroiled in a series of ever-more complex mysteries whilst inexorably also moving towards the secrets of his own past.
One of the freshest and most intriguing series in recent years and already an international hit,
The Listener
looks set to become essential viewing in the UK following a successful run on the FX channel. With the season one DVD release including more than eight and a half hours of entertainment across four discs, fans and newcomers alike can revel in Toby's adventures in other people's minds from
13th September 2010
.
Product Information
Release Date: 13th September 2010
Credit: Universal Playback
Genre: Sci-fi / drama
Cert: 15
Discs: 4 discs
RRP: £19.99
Retail Cat. Number: 8279641
Retail EAN: 50505-8279641-4
Copyright: © Packaging Design © 2010 Universal Studios. All Rights Reserved
Please credit
Universal
Pictures UK