The complete TV series of The Scarlet Pimpernel arrives on DVD this September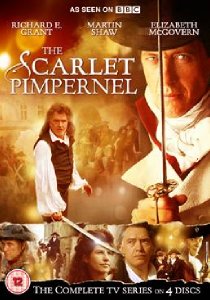 THE SCARLET PIMPERNEL
THE COMPLETE TV SERIES ON 4 DISCS
RELEASED ON DVD
3 SEPTEMBER 2010
THE POPULAR BBC SERIES STARRING RICHARD E. GRANT
ALSO STARRING
Martin Shaw & Elizabeth McGovern
For the first time ever, the complete series 1 & 2 are presented as 12 one-hour episodes as broadcast on BBC1.
The dapper and charming
Richard E. Grant
as Scarlet Pimpernel, the lovely
Elizabeth McGovern
as Lady Marguerite Blakeney and
Martin Shaw
as Chauvelin star in this lush and riveting BBC adaptation of one of the classic adventure tales of all time;
The Scarlet Pimpernel.
France 1793, the terror of the French Revolution is at its height. Citizen Robespierre, along with his ruthless henchman Chauvelin, keep the tumbrels busy carrying the innocent to the guillotine. But there is one man who dares to defy the revolutionaries... THE SCARLET PIMPERNEL.
Series 1
1. "The Scarlet Pimpernel" Pt 1
2. "The Scarlet Pimpernel" Pt 2
3. "Valentine Gautier" Pt 1
4. "Valentine Gautier" Pt 2
5. "A King's Ransom" Pt 1
6. "A King's Ransom" Pt 2
Series 2
1. "Ennui" Pt 1
2. "Ennui" Pt 2
3. "Friends and Enemies" Pt 1
4. "Friends and Enemies" Pt 2
5. "A Good Name" Pt 1
6. "A Good Name" Pt 2
The Scarlet Pimpernel: The Complete TV Series
(cert. 12) will be released on
DVD
(£15.99) by
Stax Entertainment
on
13th September 2010
Running time:
660 minutes approx

RRP:
£15.99
Cat No:
STX3034
Barcode:
5055019505348
Cert:
12
Discs:
4