Paula Milne's The Politician's Husband is out on DVD this May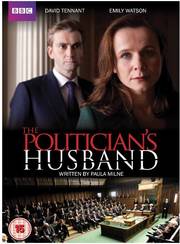 If you enjoyed
The Politician's Wife
then you'll rejoice at the news that Paula Milne's sequel
The Politician's Husband
is getting a DVD release this 13th May, courtesy of
BBC Worldwide
.
Starring David Tennant, Emily Watson, Jack Shepherd, Roger Allam and Oscar Kennedy, this three part mini-series will carry a recommended retail price of £17.99.
Synopsis and trailer follow...
This follows the shifting balance of power in a political marriage and the ensuing consequences when a wife becomes more successful than her husband. Senior Cabinet Minister, Aiden Hoynes, is happily married to Freya, a junior minister. When we meet Aiden he is a rising star in Westminster.
He went into Parliament driven by idealism, but after his son Noah was diagnosed with Aspergers he allowed himself to be sucked into the power games of Westminster, which provided him with a place to hide.
Freya Gardner, although equally able, has put the brakes on her own political career in order to provide stability for the family. But even as a Junior Minister, most recognize she is a political star in the making.