LA Law: Season 3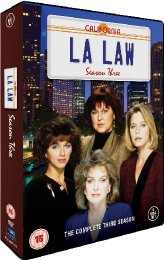 Emmy Award Winning Drama
Certificate: 15
Running Time: 910 mins
Retail Price: £34.99
Release Date: 2012
Content Type: TV Series
Synopsis:
Created by Steven Bochco (Hill Street Blues, NYPD Blue) and co-produced by David E. Kelley (Ally McBeal, Boston Legal), television's finest courtroom drama stars Jimmy Smits, Harry Hamlin, Corbin Bernsen, Susan Dey and Jill Eikenberry.

In this Season, Van Owen (Susan Dey) prosecutes a homeowner for killing a homeless man going through his garbage; in Dummy Dearest, Rollins (Blair Underwood) represents a mentally disturbed young man who speaks only through his obnoxious ventriloquist's dummy, leading to an assault case on two policemen, and in The Accidental Jurist, Kuzak (Harry Hamlin) secretly picks a gay judge when representing an Olympic athlete, who claims his homosexuality led to the unfair termination of an endorsement contract.

Season Three of LA Law was nominated was nominated for a record 17 Emmy Awards in 1989, winning two, including Best Drama and is now available on DVD for the first ever! 
Special Features:


Video Tracks:
4:3 regular

Audio Tracks:
Dolby Digital 2.0 English

Written By:
Steven Bochco
Terry Louise Fisher
David E. Kelley

Starring:
Corbin Bernsen
Jill Eikenberry
Alan Rachins
Michael Tucker
Richard Dysart
Blair Underwood
Larry Drake
Susan Ruttan
Susan Dey
Jimmy Smits
Harry Hamlin
Michele Greene
John Spencer
Sheila Kelley
Amanda Donohoe
Diana Muldaur

Music From:
Mike Post

Production Designer:
Michael L. Mayer
Jeffrey L. Goldstein

Producer:
Robert Breech

Executive Producer:
Steven Bochco

Distributor:
Revelation Films