Prisoner: Cell Block H reboot comes to DVD in November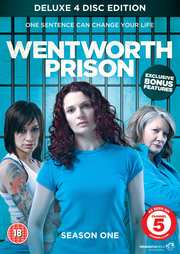 If you've been sleeping under a rock, you may have not heard that they attempted a reboot of classic Aussie series
Prisoner: Cell Block H
this year, so now is your chance to enjoy it on DVD after it finishes airing on Channel 5 in the UK.
FremantleMedia International
have announced the release of a standard and deluxe edition of
Wentworth Prison: Season 1
for 4th November, priced at £24.99 and £29.99 respectively. The latter adds over 2 hours of bonus material including behind the scenes episode features, interviews and set tours.
This stars Danielle Cormack, Nicole Da Silva, Kris McQuade, Robbie Magasiva and Leeanna Walsman.
Incidentally, you'll be able to get episodes from iTunes the day after each broadcast for £1.89 and £2.49 depending on if you go for the SD or HD downloads, with a series pass setting you back £15.99 or £19.99. No Blu-ray release unfortunately.
Synopsis and trailer follow...
Bea Smith begins her life as a remand prisoner in Wentworth Correctional Centre after being charged with the attempted murder of her husband. Finding herself caught up in prison politics, Bea must soon choose sides as rising top dog Franky Doyle is set to go to war when the old leader of the pack, Jacs Holt, returns to the compound to pull Franky back into line.
With danger around every corner Bea must traverse the politics of living in prison, which place not only her life in the balance but that of her family as well.